100+ Kobold Names For Your New Dungeons & Dragons Character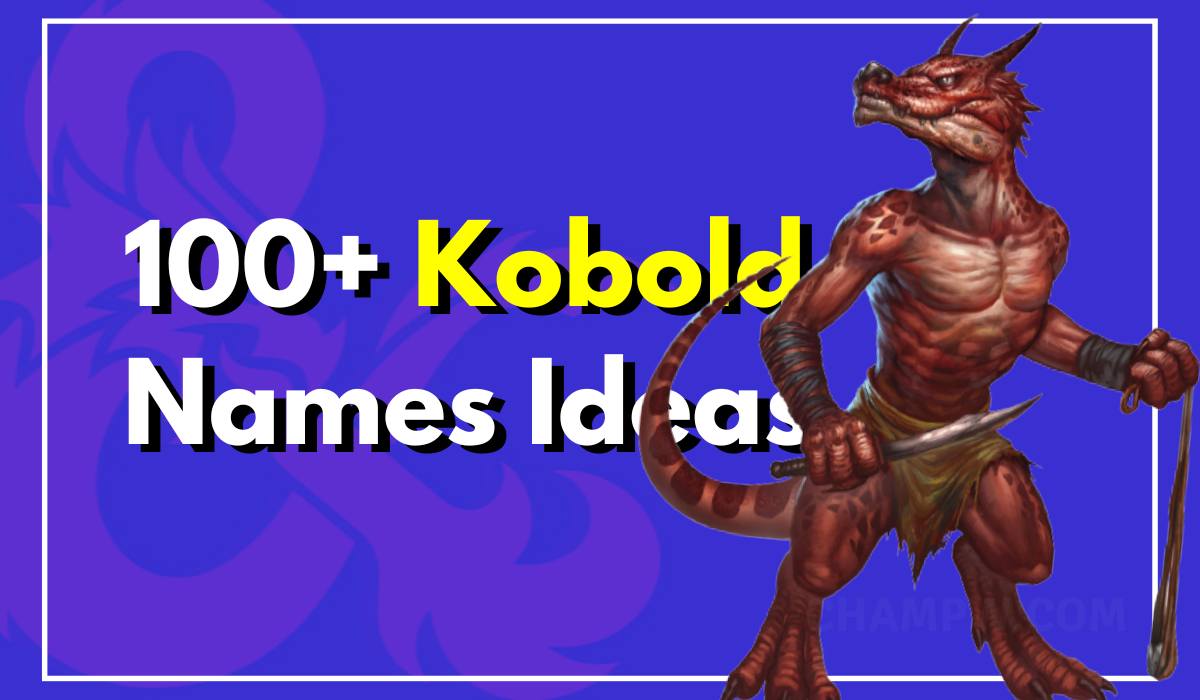 Powerful Kobold names a wide range of collections from strange to unique. Famous names are essential to respect the culture of Dungeons & Dragons' character. They distinguish each individual with a distinctive unique persona. Don't worry as the article will not revolve around common names like Spike, Quiggle, Hoggle, Munch, and Troll.
Kobolds are small, quick creatures that enjoy subterranean life. They have a variety of traits that make them well-suited for this lifestyle. These include good eyesight and hearing, fast reflexes, and the ability to squeeze through tight spaces., Kobolds are intelligent and resourceful additionally. Making them adept at scavenging and surviving in difficult conditions.
Take a quick look at Aarakocra Names to name your Dungeons & Dragons character. Uncommon names often have humorous or punny undertones. It will help to set your Kobold apart from other members of their kind. Especially when others are stuck with some most used standard ones. Enjoy the distinctive set of abilities: quick wits, dexterity, and a knack for sneaking around.
How Do You Come Up With Your Kobold Character's Name?
Kobold names are often quirky and amusing. But they also have to be unique and appropriate for the Kobold. Here are some tips on how to select a kobold name. Decide what kind of kobold you want to become. Do you want to be an adventurer? Then consider choosing an adventurer-themed name. If you're more of a social butterfly, go with something like Fluffball or Snugglebunny. Once you've chosen your name, make sure it's appropriate for your character and the setting you'll be playing in. Don't choose a modern name like Justin Bieber or LeBron James if you're playing in a medieval setting.
KOBOLD NAMES
Good Kobold names match the traditional culture of the character complete list. Whatever you choose, make sure it reflects your Kobold's personality and quirks! Here are some ideas to get you started:
Tirgeh
Roughbrace
Igzog
Vipre
Branolk
Ozkorlu
Tori
Rabidhands
Gedro
Vigi
Gank
Tashu
Magnudre
Zon
Silentfishes
Satru
Red Foot
Mik
Silverbrothers
Mega
Deend
Shadowclaws
Scurry
Meepo
Bravebows
White Claw
Ossrel
Shibbak
Stonediggers
Kov
Rage
Zehra
Kaka
Vrole
Savagewatchers
Nas
Sess
Dobi
Zakris
Fedra
Ibbad
Makillon
Dremgron
Blindhammers
Whitehawks
Loneblade
Aggind
Fogfist
Coldheart
Middlewoods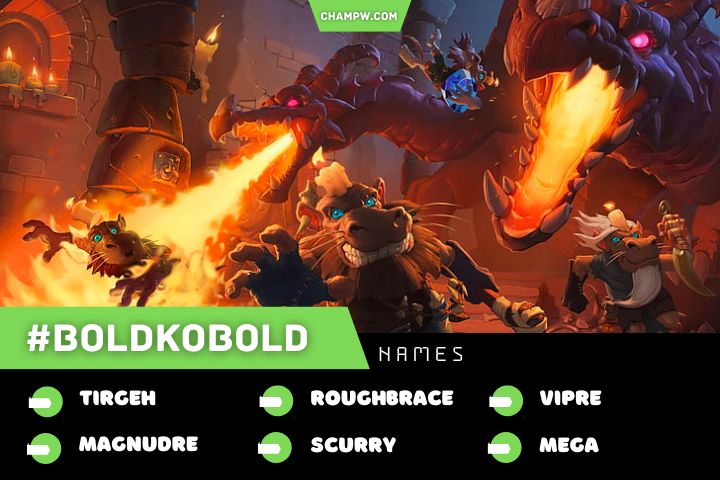 COOL KOBOLD NAMES
Select from many cool names for Kobolds comes in all shapes and sizes:
Hizerho
Giso
Lonnf
Garan
Valeraine
Luwanne
Joia
Camyron
Pleasance
Heidi
Ithrashe
Qel
Sauville
Dionte
Rom
Vidq
Erme
Osmul
Calel
Waldemar
Vanja
Lelu
Elicia
Red
Nashu
Onuhmeil
Shiu
Sonn
Taphunoh
Madraz
Vantierves
Ohreih
Hudson
Thibaut
Qoms
Hornih
Javal
Wethe
Elisabet
Nihrihrah
Delilah
Stockman
Nannerl
Selsorre
Emelina
Deston
Bojana
Faun
Natascha
Xandra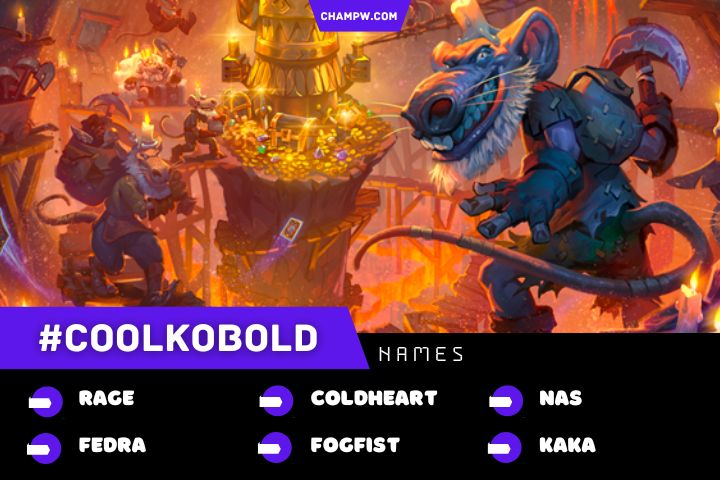 FUNNY KOBOLD NAMES
Looking for a creative name that will make everyone laugh? Here are 8 funny Kobold names:
Swantje
Cirne
Jeimem
Tancred
Tisih
Nuhpuma
Yirrulre
Jerem
Mariette
Wladisla
Odvorth
Tajamzad
Berta
Antm
Sherzoldood
Chilol
Theodor
Tess
Wifna
Annekathrin
Kifla
Erick
Agim
Ralma
Lorena
Cai
Jei
Ellen
Bifra
Chu
Brendon
Leoro-Neo
Elbert
Girergos
Tiy
Lim
Bren
Drivilvask
Fuw
Vuo
Jasun
Kil
Bifriga
Loncv
Ind
Gungam
Edhemza
Fimu
Ronno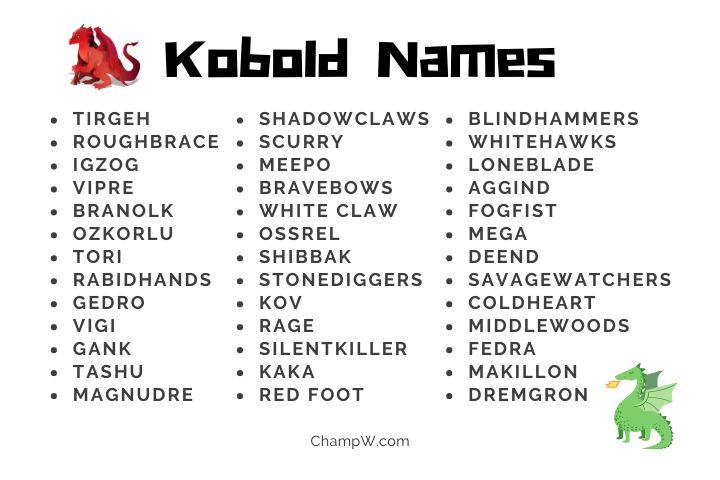 Final Words
Hi, myself Arun Verma. Thank you for reading my article. I and my team put my best effort to create this post to help You with the best choices. I think you got the perfect Kobold Names ideas. It can be fun to come up with and give your tiny friend a bit of personality.
Whether you choose to go for old-fashioned, whimsical, or even downright silly options, there's something for everyone. And don't forget: Kobold names are also perfect for giving your character an edge in roleplaying games! So get creative and give your kobold friend the name he or she deserves!