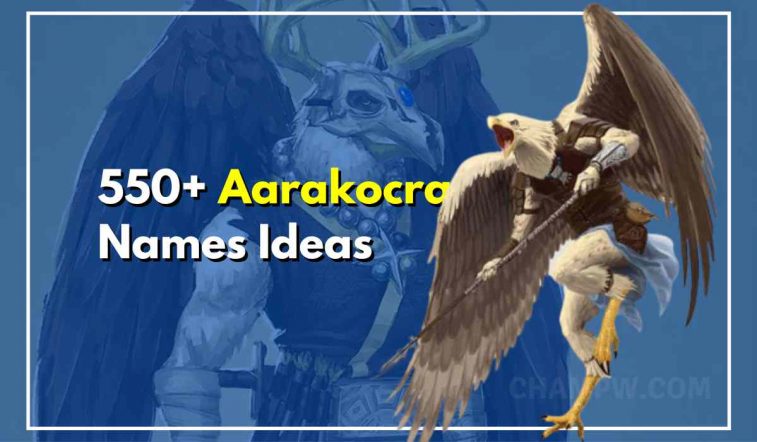 Select Aarakocra names for your avian humanoid character. Use the manual generator to combine first and last names for both male and female roles. Birdfolk is also known as Aarakocra who live in high mountainous areas. Not only just strong fliers, but they are also excellent warriors. Aarakocra is also well known as "Featherheads" and "sky hunters".
Aarakocra is pronounced "@-ra-KO-kra". The "@" sounds like the letter "a" in the word "happy." Though the plural form "Aarakocras" has also been used. The singular and plural forms of "Aarakocra" are commonly used. They live in high mountains on top of tall trees. Aarakocra is immigrants, refugees, scouts, and explorers.
Try solid Halfling names collection for your DND characters. Have you noticed Aarakocra is evoking dread and looks for amazement? Many Aarakocra isn't even Material Plane natives. The limitless vistas of the Elemental Plane of Air. So they serve as stepping stones into a strange and unfamiliar world.
Aarakocra Names
Want Aarakocra names for your gaming character? Give your humanoid feathers and a beak that looks like a bird a solid name. Distinguished by their plumage Aarakocra is a good role.
Zoatzuh
Qle
Herc
Ad
Topaz
Eqas
Groorriaf
Kraf
Shotallui
Kilirrk
Arrk
Claiarc
Girra
Rhec
Erk
Ducciss
Reeccec
Winter
Yerk
Qu
Khilass
Cruierrk
Dash
Ras
Soot
Dee
Gili
Qrurrk
Klourr
Uierack
Yir
Sohtlelu
Secac
Sshelki
Qliss
Ooqierc
Zack
Qriceg
Grecarc
Thestiuss
Qred
Es
Qreccad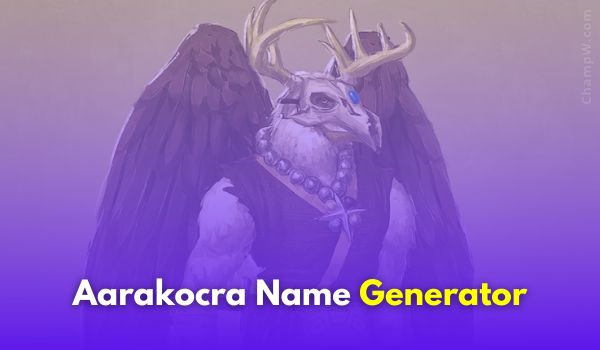 Aarakocra Name Generator
Create names manually using the Aarakocra name generator. Pick any two words from below and combine them to generate a name for three fingers and a thumb friend.
Err
Zour
Huac
Violet
Clarrk
Beast
Aiakkack
Grove
Zus
Ruie
Elshee
Qhicek
Sacci
Kil
Shohlishlu
Saekehk
Qler
Haztallih
Khehk
Ella
Gre
Kihk
Qres
Derr
Shosiass
Qrerrk
Otzuihuss
Zirc
Uca
Huie
Ekkirk
Ille
Ullerc
Tiltlossis
Craiack
Haek
Zellehk
Crikis
Mist
Sac
Cookea
Olka
Aarakocra First Names
Highly on-demand first names for Aarakocra are a symbol of feathery wings on their hands. Slender legs that culminate in talons combine with the second half.
Saqeak
Re
Shaktlayei
Sess
Rhuccess
Szetshoziel
Hicca
Khuarahk
Er
Qril
Krud
Ssiltsutall
Hug
Yele
Yil
Surre
Qlikke
Crurrk
Soatsa
Cliqerc
Zsuszossash
Qharaarr
Fluff
Cli
Rhuag
Aiaqa
Qru
Rak
Zala
Ar
Hirk
Clikarc
Badger
Uk
Eceg
Grilla
Hulka
Zarral
Kuc
Ullierk
Qrucil
Qlarea
Aarakocra Last Names
The last name for Aarakocra is for enormous birds until they land. They don't have separate arms and wings until Dungeons & Dragons 5th edition.
Diraad
Culeek
Qhikack
Zi
Shetshilleess
Scarlet
Yaccaack
Erirk
Neltlass
Rhi
Gucciag
Ak
Bluff
Dek
Qlilead
Kroo
Hud
Cler
Irrk
Rhouka
Durerc
Crukaag
Area
Zuakiss
Gaiac
Grel
Urrk
Flood
Ssuhtlush
Grir
Uqass
Clal
Ukie
Quieccef
Ruak
Qhal
Rhiccial
Daes
Uzshush
Rela
Rharis
Ostotah
Male Names For Aarakocra
Aarakocra male names have hands halfway along the length of the wings. A fourth finger runs the remaining length of the wing.
Alirrk
Rhooqarr
Qiss
Cuied
Yaf
Rharag
Ulef
Uki
Briar
Ocean
Kloukaf
Guakiek
Crus
Shisi
Clurral
Arc
Huciag
Sed
Cuakkak
Qlekka
Qucil
Barb
Qurc
Kreqe
Ekkic
Sif
Qrooccack
Dukkeg
Cikik
Hazel
Khuiekiss
Siqek
Krurra
Crir
Zsilkies
Rharrk
Char
Qloulles
Qleerc
Caerc
Qouccak
Dirrearr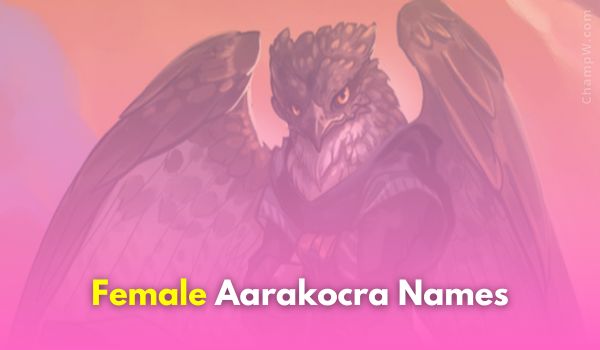 Female Names For Aarakocra
Aarakocra with female names has duller plumage, which is often brown or grey.
Ra
Kluccac
Zerr
Durc
Qhuhk
Seztu
Gerrk
Creelack
Ug
Dake
Krouc
Khuk
Suqe
Yu
Rid
Sunrise
Caiak
Khid
Ihk
Coocirrk
Ikhu
Zecci
Youkki
Ssostli
Sshohtluzhih
Uqak
Ruki
Suakkeass
Sirc
Kler
Dehk
Szuitsha
Amethyst
Quarerr
Roukick
Caer
Clerc
Char
Guf
Qarril
Clid
Klil
Good Names For Aarakocra
Good Aarakocra has brighter plumage that is generally red, yellow, or orange.
Cae
Huc
Spring
Spine
Cri
Ssitshessiu
Ekki
Sirr
Orchid
Qhu
Ark
Kruaf
Clur
Uar
Hirrk
Gust
Kless
Nightshade
Khaia
Kaiarraag
Ziraf
Krael
Hikkel
Qarr
Qurre
Iceg
Yig
Rift
Dik
Silver
Yika
Crur
Wolf
Sukerk
Hakarc
Sekia
Somi
Alik
Cucci
Dooccirr
Zurel
Accaark
Strong Names For Aarakocra
Aarakocra heads resemble those of eagles or parrots, and tribal variants exist.
Qrirra
Clilaack
Ererr
Caiaccarrk
Ssoahluss
Cra
Zhotstlu
Khiss
Pyro
Rerrass
Haciss
Klekead
Irass
Zsetsziu
River
Arrar
Af
Qeess
Sapphire
Soocad
Qroo
Crileeg
Crekke
Kiss
Kluhk
Illaarrk
Arrik
Yis
Ca
Arre
Coral
Yucaarr
Ikke
Krookkik
Dallark
Raiaf
Qa
Qurr
Kluck
Kluass
Ssutlih
Kraialiess
Great Purpose of Aarakocra
Aarakocra is a peaceful and solitary creature. Treasure and fame aren't enough to tempt them away from their tribes.
A vengeance quest is usually at the center of the Aarakocra adventurer's chosen route.

The special circumstance for an Aarakocra to leave. His or her tribe and embark on the life of an explorer.
The majority of them have little desire to interact with other people. Aarakocra Names even less desire to spend time on the ground.
Zukic
Qherass
Daraak
Kees
Qrirc
Errahk
Yozshu
Zhinah
Keck
Cleekerc
Zuierc
Kruiec
Qhoocee
Thoma
Kreg
Gril
Cleka
Uqaarc
Cess
Uztloahlee
Cik
Cluceed
Allie
Zicerc
Snowflake
Eliac
Clera
Daf
Snow
Kle
Sshuiszoshliu
Eccess
Urk
Qlack
Rhicarr
Klek
Ahshezash
Dirri
Grerres
Yire
Kindle
Yeellea
Aarakocra loves to embark on an adventure. The individuals may search down the missing bits of the Rod of Seven Parts.
The Queen of Chaos's horrific champion remains of an item. Fashioned by the Wind Dukes long ago to destroy Miska the Wolf-Spider.
Recovering pieces will restore dignity in the eyes of the Vaati. A possibility of restoring a strong weapon for fighting elemental bad agents.
Aarakocra is the mortal enemy of elemental earth. The Prince of Earth especially the gargoyles that serve Ogrémoch.
Gargoyle is loosely translated as "flying rock" in the Aarakocra Names language.
Urchin
Qlif
Uieccir
As
Cruaka
Yik
Duqiss
Klekaak
Clillahk
Ef
Yecehk
Rheer
Zuarris
Qluakkerr
Kheqir
Hucca
Vapor
Kararc
Krulleeg
Evening
Netsheess
Crahk
Brock
Cras
Rhug
Ricel
Ag
Yuccaf
Swill
Seg
Ud
Kecceec
Krikkierrk
Szuiltli
Zerra
Klekki
Zsatozhil
Uf
Ucia
Grakkag
Guacci
Crukkess
Personality of Aarakocra
Aarakocra prefers to be in the air. They spend hours or days soaring on thermals in their own Elemental Plane of Air. The stay on the fly can last months.
Generally hesitant to land on the ground Aarakocra is once they have taken to the air. They prefer an unencumbered, mobile existence, similar to that of the wind.
It requires leaving the rest for others to use according to Aarakocra. Strange is Aarakocra Names has no idea of property. The only thing they know is to take food from farms on the spur of the moment.
Aarakocra is also uninterested in material wealth. Prefers instead to collect glittering artifacts with which to beautify their dwellings.
Qhuqiarrk
Kluc
Aki
Ec
Khirraar
Qlouci
Hiccark
Ce
Huceef
Harley
Zif
Dicirc
Grerc
Giri
Yicihk
Sutstluihlu
Qrekkee
Zeraf
Qik
Aqua
Dac
Khiqe
Qlaiaccar
Zaltli
Uzsih
Kluakkarrk
Qlukeass
Qhaek
Sic
Ekag
Kloorr
Haze
Aekass
Quill
Mahogany
Uimoalei
Qarc
Sakis
Rhiqid
Qhac
Rhouli
Oos
Rhirial
Carr
Zuiek
Pinecone
Aarakocra has no idea of political boundaries and is uninterested in working with other races in general. They pity the races that take place on the ground. Also, despises half-orcs and other racial members.
Constantly grooming their feathers and settling near water where they can wash shows Aarakocra Names has several bird-like behaviors. Vertical distances are also known to be ignored or forgotten by Aarakocra.
Aarakocra has a profound aversion to being confined. They are terrified of being grounded or trapped beneath the earth. Unless there is no other option, most people will not enter caves, buildings, or other enclosed environments.
The combat prowess can be harmed by being trapped in a small space. Certain Aarakocra may say they have no fear of enclosed quarters, but once inside, they become unusually calm.
When confronted with fighting, they may suffer a nervous breakdown, erupting in rash violence, paralyzing terror, or blind panic. Adventurers and explorers may be lawful, whereas leaders and tribal warriors may be chaotic. Aarakocra Names is frequently good in a neutral way.
Read Also:
Final Words
Hi, myself, Arun Verma. Thank you for reading my article. My team and I put my best effort into creating this post to help you with the best choices. What Aarakocra Names will you pick? Let us know in the comment section below. We hope Aarakocra Names will help you to pick your character name.