200+ Majestic Names For Your Little Love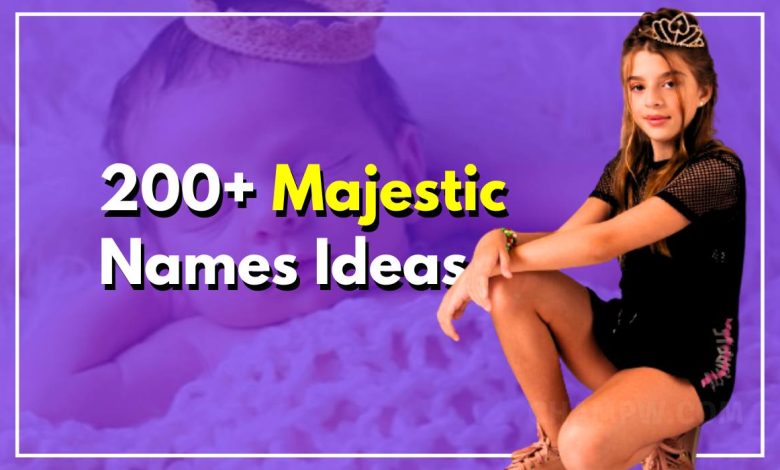 Choosing majestic names for your baby is a significant decision. As it's a gift they'll carry throughout their life. One popular trend is selecting majestic or royal names.
These are names often used by kings, queens, or other nobility, and connote a sense of prestige, power, and elegance.
Names with a rich history often come with beautiful meanings that can set your child on a path of confidence and leadership.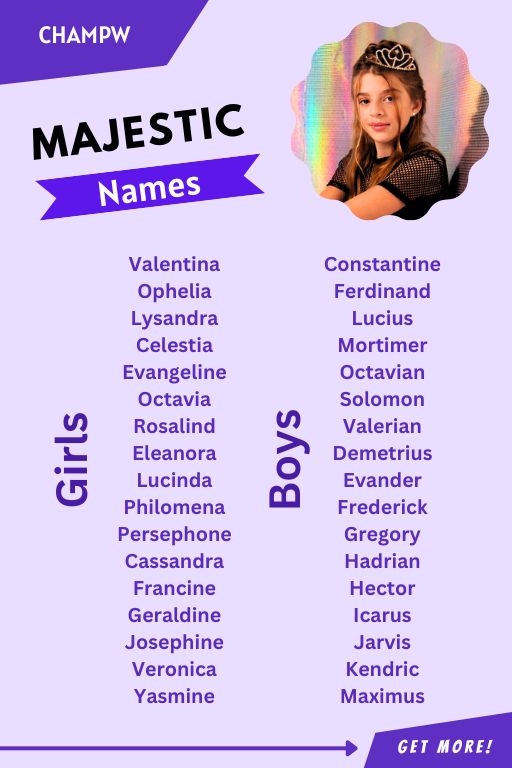 Read Also>> How To Pick A Perfect Baby Name?
How To Choose The Best Majestic Names?
Consider the origin and meaning of the name – a name with a powerful meaning can create a profound impact. The sound and rhythm of the name are also crucial, as a name that rolls off the tongue is likely to be remembered. Also, the uniqueness of the name can also add to its majesty. A name that is uncommon or rare can stand out and draw attention.
Read Also>> When Do Babies Recognize Their Name?
Majestic Baby Names
Get into the world of regal and majestic baby names fit for a prince or princess. Enjoy the grandeur of historical monarchs or the enchanting allure of mythical beings.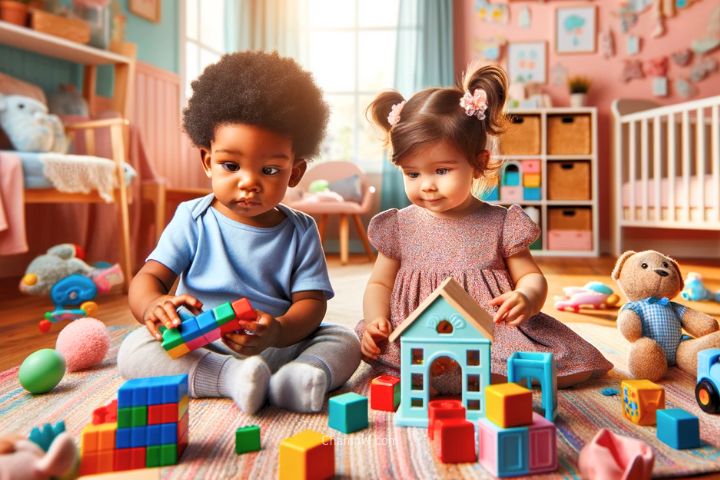 Majestic Names for Girls
Aurora: Meaning "dawn" in Latin, this name symbolizes new beginnings and radiant beauty, perfect for a girl who will light up your life.
Isabella: Rooted in Hebrew, meaning "God is my oath," it's ideal for a girl destined to be strong in faith and character.
Seraphina: Derived from the biblical seraphim, meaning "fiery ones," it's a name for a girl with a passionate and spirited soul.
Anastasia: Meaning "resurrection" in Greek, it's a powerful name for a girl who will rise above challenges with grace.
Gwendolyn
Arabella
Eleonora
Valentina
Ophelia
Lysandra
Celestia
Evangeline
Genevieve
Theodora
Cordelia
Octavia
Vivienne
Rosalind
Eleanora
Lucinda
Philomena
Guinevere
Isolde
Persephone
Calista
Marguerite
Euphemia
Henrietta
Desdemona
Zenobia
Tatiana
Alexandria
Beatrice
Wilhelmina
Florence
Penelope
Cassandra
Arabesque
Calliope
Leonora
Esmeralda
Marcellina
Anastacia
Dominique
Francine
Geraldine
Josephine
Katherine
Lavinia
Madeleine
Natalia
Odelia
Priscilla
Quintessa
Raphaella
Sabrina
Theodosia
Ursula
Veronica
Yasmine
Majestic Names for Boys
Alexander: Meaning "defender of men" in Greek, it's a name for a boy who will grow up strong, courageous, and protective.
Maximilian: A name of Latin origin meaning "greatest," perfect for a boy destined for greatness and remarkable achievements.
Nathaniel: Hebrew for "gift of God," it's a wonderful choice for a boy who is a blessing and joy to his family.
Sebastian: From the Greek for "venerable" or "revered," this name suits a boy who will be respected and admired for his integrity.
Theodore
Augustus
Benedict
Constantine
Leopold
Ferdinand
Gideon
Horatio
Isidore
Lucius
Mortimer
Octavian
Percival
Quentin
Raphael
Solomon
Thaddeus
Valerian
Ambrose
Barnabas
Cornelius
Demetrius
Evander
Frederick
Gregory
Hadrian
Ignatius
Jebediah
Kingston
Lysander
Montgomery
Napoleon
Oberon
Phineas
Reginald
Sylvester
Tristan
Ulysses
Vladimir
Wilhelm
Xavier
Zacharias
Alaric
Beauregard
Casimir
Darius
Emeric
Fabian
Galahad
Hector
Icarus
Jarvis
Kendric
Leander
Maximus
Norbert
Majestic Pet Names
Have you ever wondered what a regal and majestic name could do for your furry friend? Explore the world of majestic pet names, from historical figures to mythical creatures. Elevate your beloved companion to new heights of sophistication.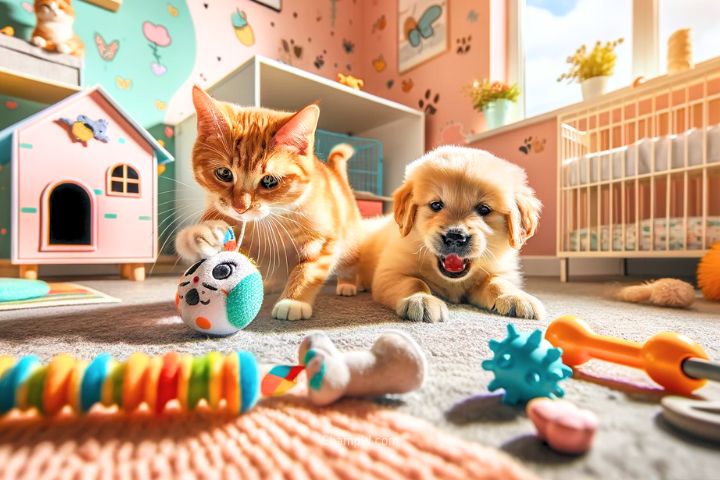 Majestic Names for Cats
Orion: Named after the prominent constellation, this name is perfect for a cat with a striking presence and a celestial charm.
Luna: Meaning "moon" in Latin, it's a fitting name for a cat with a mysterious, serene, and enchanting nature.
Cleopatra: After the famous Egyptian queen, this name suits a cat with a regal demeanor and captivating beauty.
Apollo: Named after the Greek god of the sun, music, and art, ideal for a cat with a bright, artistic, and noble personality.
Athena
Neptune
Zenith
Pharaoh
Isis
Jupiter
Minerva
Sultan
Pandora
Calypso
Hyperion
Perseus
Sable
Vesta
Zephyr
Artemis
Bastet
Cosmos
Eclipse
Freya
Galileo
Hera
Indigo
Jinx
Kismet
Lyra
Merlin
Nova
Pegasus
Quasar
Rhea
Sirius
Titania
Ursa
Vega
Willow
Xanthe
Yara
Zara
Aslan
Bellatrix
Caspian
Draco
Electra
Fauna
Goliath
Hestia
Idris
Juno
Kali
Lancelot
Mowgli
Narnia
Onyx
Majestic Names for Dogs
Thor: Named after the Norse god of thunder, it's a great name for a strong, brave, and protective dog.
Odin: Another name from Norse mythology, fitting for a wise, powerful, and majestic dog.
Hercules: Based on the legendary Greek hero known for his strength, it's ideal for a powerful, courageous dog.
Titan: Referring to the giants of Greek mythology, this name suits a large, strong, and impressive dog.
Xena
Zeus
Valkyrie
Sampson
Diana
Boreas
Echo
Fenrir
Griffin
Helios
Iris
Kairos
Leonidas
Midas
Nero
Phoenix
Quixote
Rex
Spartacus
Triton
Vulcan
Wolfgang
Yeti
Achilles
Brutus
Caesar
Dante
Elektra
Falcon
Hades
Jove
Kronos
Lobo
Mars
Osiris
Pluto
Quest
Remus
FAQs
Q. What are majestic names for babies?
Majestic names often have historical, mythological, or cultural significance, embodying qualities like strength, beauty, and nobility.
Q. Why choose a majestic name for my baby?
Majestic names can provide a sense of heritage, uniqueness, and may inspire qualities like leadership and confidence in your child.
Q. What are some tips for choosing a majestic name?
Research the meaning and history behind the name, consider its ease of pronunciation, and think about potential nicknames.
Q. Can majestic names impact my child's life?
Names can influence first impressions and may carry certain expectations, so consider the balance between uniqueness and practicality.
Q. Are there gender-neutral majestic names?
Yes, many names, especially those derived from nature or concepts, can be majestic and gender-neutral.
Final Words
In conclusion, choosing a majestic name for your baby can imbue them with a sense of importance and distinction from the outset. These names, often rooted in history, literature, or mythology, carry a weight and a resonance that can inspire and empower. Whether it's a name that connotes strength, royalty, or simply has a grand, beautiful sound, a majestic name can be a wonderful gift to give your child.