200+ Vintage Names For Babies Forgotten Still So Elegant
Explore a treasury of forgotten vintage names that once echoed in the halls of our grandparent's homes. Names that held stories, memories, and a unique charm that's gradually faded from contemporary registries.
Names like "Wilfred," "Mildred," and "Cornelius" were commonplace and every second child in the neighborhood seemed to hold a piece of history within their names at times.
If you hold a fascination for the old world, or if you're an expecting parent seeking a distinct and timeless name for your little one, this galactic exploration of antiquity is for you.
Take a quick look at this nostalgic journey of the forgotten gems of the past: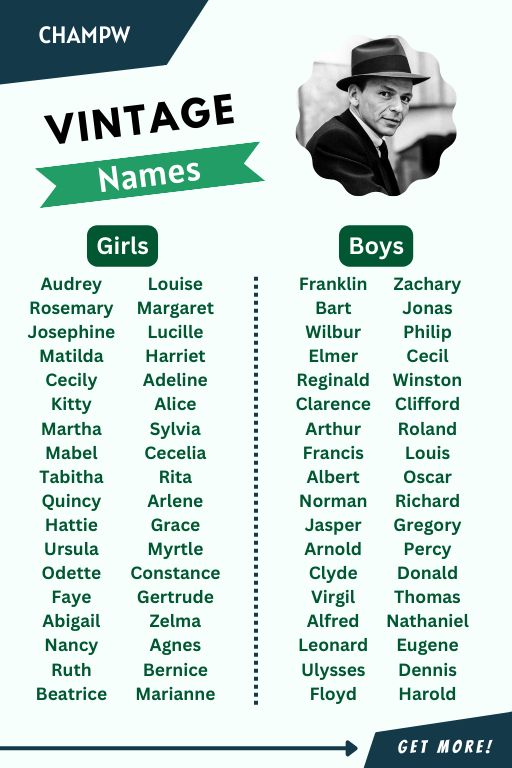 Read Also>> 300+ Vintage Unisex Names For Your Love Beyond Gender Limits
Girls Vintage Names
The elegance of girl vintage names, once deemed outdated, is now viewed as quaint, appealing, and full of character. Their resurgence reflects a yearning for simpler times, a desire to pay homage to family traditions, and an appreciation for the timeless beauty found in these forgotten gems.
Abigail
Ada
Adeline
Agnes
Alice
Alma
Annabelle
Beatrice
Beryl
Bessie
Clara
Constance
Cordelia
Daisy
Daphne
Dorothy
Edith
Eleanor
Elsie
Evelyn
Florence
Frances
Genevieve
Grace
Harriet
Hazel
Helen
Hilda
Iris
Ivy
Josephine
Lillian
Louise
Lucille
Mabel
Margaret
Marianne
Matilda
Mildred
Nellie
Olive
Opal
Pearl
Prudence
Rosalind
Rosemary
Ruth
Sadie
Sylvia
Tabitha
Thelma
Vera
Violet
Winifred
Wanda
Yvette
Zelma
Ursula
Tess
Selma
Rita
Quincy
Priscilla
Odette
Nanette
Myrtle
Lucinda
Kitty
June
Imogene
Henrietta
Gertrude
Faye
Estelle
Delilah
Cecelia
Barbara
Augusta
Audrey
Arlene
Angelica
Cora
Nancy
Martha
Lily
Amelia
Isadora
Hattie
Geraldine
Francesca
Cornelia
Blanche
Bernice
Antoinette
Anastasia
Alberta
Adelaide
Cecily
Read Also>> 1000+ Old Lady Names for Your Baby Girl
Boys Vintage Names
The appeal of boy vintage names brings back unique charm and old-world sophistication setting them apart in a sea of modern names. These names echo a bygone era, offering a nostalgic nod to the past. It's about celebrating heritage, embodying strength, and carrying forward a legacy with an ageless name.
Albert
Alfred
Archie
Arthur
Bernard
Cecil
Charles
Chester
Clarence
Clifford
Cornelius
Donald
Edgar
Edmund
Edward
Ernest
Eugene
Felix
Francis
Frederick
George
Gerald
Gilbert
Harold
Henry
Herbert
Howard
Isaac
Jasper
Julius
Kenneth
Leonard
Louis
Martin
Milton
Nathaniel
Norman
Oliver
Oscar
Percival
Philip
Ralph
Raymond
Reginald
Richard
Robert
Roland
Sidney
Stanley
Theodore
Vernon
Victor
Vincent
Walter
Wilfred
William
Winston
Zachary
Percy
Neville
Morton
Llewelyn
Kirk
Jonas
Irving
Humphrey
Horace
Gregory
Geoffrey
Franklin
Ezra
Dwight
Clyde
Bart
Arnold
Angus
Alton
Adam
Dennis
Edwin
Elmer
Floyd
Lester
Marvin
Neil
Orville
Stuart
Willard
Wilbur
Warren
Virgil
Ulysses
Thaddeus
Sylvester
Read Also>> 200+ Charming Old Man Names Ideas for Your Baby Boy
FAQs
Q. What are vintage names?
A: Vintage names are classic names that were popular several decades or even centuries ago. They are often considered timeless and have been regaining popularity in recent years.
Q. Are vintage names popular today?
A: Yes, vintage names have experienced a resurgence in popularity in recent years as more parents seek out unique names with a sense of history and charm.
Q. Can you give examples of vintage names?
A: Sure, examples of vintage names include Evelyn, Hazel, and Beatrice for girls and Theodore, Oliver, and Arthur for boys.
Q. Why choose a vintage name for my child?
A: Vintage names often carry a sense of history, tradition, and charm. They are less likely to be common which can make your child's name more distinctive.
Q. Where can I find inspiration for vintage names?
A: Inspiration for vintage names can be found in old literature, historical documents, family genealogies, and even old movies or television shows.
Read Also:
In conclusion, on our journey through the annals of antiquity, we may stumble upon appellations of yesteryears, seemingly lost in the mists of time. These monikers, though once cherished, now lie dormant, their charm and elegance forgotten. Yet, they hold within them an echo of a bygone era, waiting to be rediscovered and embraced once again.