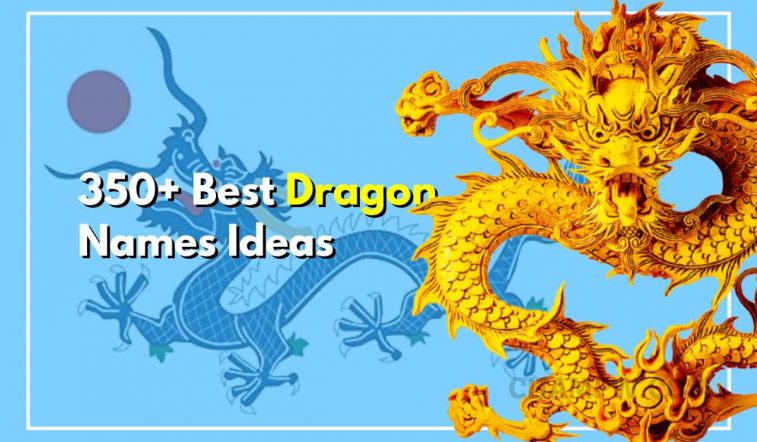 Dragons are interesting creatures. These scaly, often wingless monsters have the capacity to breathe fire and are utterly magical. They're sometimes utilized for good, and sometimes they're used for evil. They're primarily monsters in English mythology, while they're often seen as intelligent in Chinese mythology. If you're looking for dragon names, we've compiled a comprehensive list of the top male and female dragon names to help you name your children.
Take a look at our list of ferocious and fiery ideas for dragon names, whether you're creating your own fantasy universe or just seeking for a fantastic dragon name to inspire grandeur and awe in others.
Maybe you're a Game of Thrones fanfiction writer. Perhaps you're inventing your imaginary universe. Here are some fiery dragon names to steal, no matter what your intentions are. Do you have a novel, a poem, or a short story that you're working on? Are you coming up with a name for a video game character? What are your current ideas for a fictional piece, and did you manage to create a good name for your dragon after looking through this list?
Dragon Names
Aren't dragons fantastic? Whether you want to name a dragon for an in-game character or your child, I've got you covered with these 350+ dragon names divided into the following categories. This list covers Dragon names that are distinctive, humorous, cool, or cute and are categorised by gender.
Abraxas: famous dragon from Persian mythology, symbolic of Gnosticism.
Aido-Hwedo: the Rainbow Serpent of Dahomey mythology.
Akhekhu: from Egyptian mythology; a desert serpent.
Amphiptere: famous dragon from North African mythology; the winged serpent.
Ananta Boga: from Javanese mythology; ruler of the dead and king of dragons.
Anbraxas: famous dragon from Persian mythology, symbolic of Gnosticism.
Ancalagon: the Black in The Silmarillion by J. R. R. Tolkien.
Apalala: water dragon converted to Buddist doctrine.
Apep: famous dragon from Egyptian mythology; serpent that chases Ra.
Apophis: famous dragon from Egyptian mythology; serpent that chases Ra.
Apsu: from Babylonian mythology.
Azhi Dahaki: from Persian mythology; three-headed.
Brinsop: famous dragon from European legend.
Charizard: flying, fire-breathing Pokemon.
Chrysophylax: in Farmer Giles of Ham by J. R. R. Tolkien.
Drachenstein: from Norse mythology; killed by Hurnen Siftrit.
Eingana: from Australian mythology; goddess of creation and death.
Fafnir: famous dragon from Norse mythology.
Falkor: the luck dragon, in The Neverending Story by Michael Ende.
Galeru: from Australian mythology; a giant rainbow serpent.
Glaurung: the first of the dragons in J. R. R. Tolkien's Middle-earth.
Gleep: in the Myth series by Robert Asprin.
Griaule: gigantic dragon, paralyzed and moribund in stories by Lucius Shepard.
Haku: in Miyazaki Hayao's Spirited Away.
Hatuibwari: famous dragon from Malay mythology.
Illuyankas: from Turkish mythology.
Jabberwock: likely a dragon, in Lewis Carroll's Through the Looking-Glass.
Jormungandr: from Norse mythology; a symbol of infinity and enemy of Thor.
Julunggul: from Australian mythology; a symbol of rain and fertility.
Ketu: the Dragon's Tail in Indian mythology.
Knucker: famous dragon from British legend; water drake from Sussex.
Ladon: from Greek mythology; guarded Hera's golden apples.
Manasa: from Hindu mythology; a symbol of fertility.
Mayland: from Chinese mythology.
Naga: in India Nagas are a race of snake-humans.
Ness: famous dragon from the British legend; of Loch Ness.
Nidhogg: (also Nidhoggr) (the 'Dread Biter').
Nithhogr: from Norse mythology; eats the dead.
Norbert:  Hagrid's baby dragon, in Harry Potter and the Philosopher's Stone.
Norbert: from Harry Potter.
Quetzalcoatl: from Aztec mythology has a dragon-like aspect.
Rahu: the "Dragon's Head" in Indian mythology.
Scatha: from J. R. R. Tolkien's Middle-earth.
Scylla: famous dragon from Greek mythology; once a nymph.
Shen Lung: from Chinese mythology; a symbol of good luck.
Sirrush: from Babylonian mythology; a symbol of chaos.
Smaug: in The Hobbit by J. R. R. Tolkien.
Smerg: evil dragon, in The Neverending Story by Michael Ende.
Smok Wawelsk : (the Wawel Dragon) from Polish mythology.
Stoorworm: famous dragon from Celtic mythology; death created the Orkney Islands.
Tarasque: tamed by Saint Martha.
Tatsu: not an individual dragon but a generic term for Japanese dragons.
Tiamat: from Babylonian mythology.
Typhon: from Greek mythology; monstrous son of Tartarus and Gaia.
Uwibami: from Japanese mythology.
Vasuki: famous dragon from Hindu mythology; symbolic of sea & oceans.
Vermithrax Pejorative: in Touchstone Pictures Dragonslayer.
Whiro: from Polynesian mythology; a symbol of death and evil.
Wyvern: generic name for a common type of British dragon.
Xiuhcoatl: serpent from Aztec mythology.
Y Ddraig Goch: famous dragon of British legend; a symbol of Wales.
Yam-nahar: from Canaanite mythology.
Yofune-Nushi: from Japanese mythology; the symbol of female sacrifice.
Yong: generic name for Korean dragons.
Zu: famous dragon from Sumerian mythology; a symbol of chaos.
Cool Dragon Names
The below names of dragons are Cool and stylish ever, You should use these names for your pet.
Snowfall
Aasyuop
Waqeea
Kamnba
Irefanas
Sárkány-Hungarian dragons when they're in human form.
Vikkiea
Hedwig
Asphodel
Reirsyphys, The Tender
Jisani
Cambria-In Welsh origin, it means " the people".
Baedairaerth, The Young One
Fwera
Drayop
Yuioka
Niutaa
Tiesurraelth, The Stubborn
Zuudea
Uweaas
Guliana
Mumraa
Nisuyaa
Sharine
Ytraa
Wyvern-These popular dragon-like creatures are a major part of English folklore.
Gujiaa
Bidhani
Giddaa
Quintal
Cransoal
Barebone
Mujhida
Elmo
Aristophanes
Davina- A Scottish name meaning " beloved".
Xinglop
Dean- The name honours James Dean. It also means "lived near a valley".
Fansatop
Jergintarth: The Firestarter
Bawzxiao
Ezzussi, Destroyer Of Men
Thaye
Suulia
Female Dragon Names
This area of the article is dedicated to powerful female dragon names, names derived from mythological goddesses, and much more.
Bizxopaa
Qyrdur, The Rabbit Slayer
Wuloia
Kemen-A Spanish origin male name meaning " strong".
DAubigny
Kartini-A writer and activist who supported the protection of public health and natural arts.
Helen-Helen Keller was a blind and deaf inspiring social activist.
Kamnua
Narissa– Dragon from the movie Enchanted.
Cight
Onnalth, The Careful
Esperanza-Name of Spanish origin meaning " hope".
Croissant
Zane-Classical version of name " John" meaning Gift of God.
Guhaja
Harley-Name of the most popular bike companies in the world.
Sarinne
HANCOCK
Fuppola
Glycon
Jukila
AngerBull
Gavnith, The Insane
Ikuchi– A Japanese water dragon.
Haku
CLEMENTINE
Wasdaa
Rujika
Saymimah
Ryder-British origin name having 3 meanings: "cavalryman", " messenger" and "knight".
Ezorreod, The Strong Minded
Tienyntoass, The Tyrant
Grymre: The Loud
Akuila
Artemesia-One of the most legendary artists during the Baroque Era.
Sancri
Cashola
Evran– a Turkish snake-like dragon.
Sanessalmo
Humdara
Male Dragon Names
Check out these cool male dragon names:
Calista- An ancient name meaning " cup", "fairest" or "most beautiful".
Luliao
Knox- A strong name meaning "from the hills"
Uiopa
Vimbrodo
Viewa
Sayda
Kraesa
Faranth – the last gold dragon of Pern (Dragonriders of Pern)
Ryu– Benevolent water dragons in Japanese mythology.
Yuttra
Niaopa
Bizzser
Chance-It refers to "good fortune".
Huffasa
Xuxopa
Ohana
Shysyt, Champion Of The Green
Kiddra, The Fierce
Ginglea
Sharbashana
Sharela
Mimnaa
Cizxioal
Phoenix-Mystical bird which implies rising from the dust.
Buhytaa
Talon-French origin name which means "large claw of a bird of prey".
Abzu– a Babylonian dragon.
Infasew
Fudhos
Dino
Smaug– From The Hobbit by Tolkien.
Raven-A dangerous name to girls with thick and black hair.
Zumbado
Asxiua
Iwasdee
Shadri
Nahjoa
Taro– From The 7th Voyage of Sinbad.
Lilith-A name of Hebrew origins meaning " ghost" and "storm goddess".
Godzilla
Viper
Belladonna
Sevilirion
Vahula
Sasana
Auladiya
Thulias
Ida- In German, it means "work" or "labor".
Shadeeta
Ryuikomp
Fuimina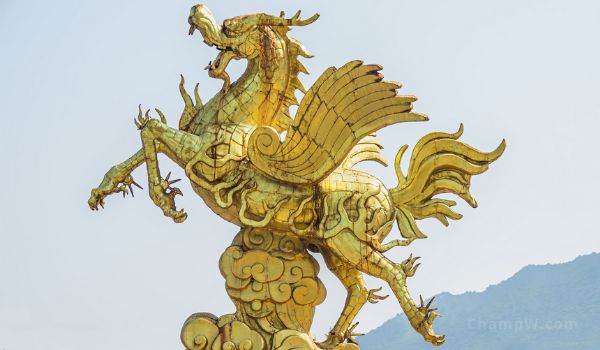 Cute Dragon Names
This list of dragon names is cute and adorable.
Shelmar
Coppelia
Xiccda
Suslian
Ratyy
Fridkino
Sudda
Eaxuuaj
Kimnaa
Aevnass, Gentleheart
Khawos
Lukiana
Mumnoa
Diesel-A type of fuel.
Sasxnoa
Humiliation
Badcock
Glismoda
Gatewa
Kikano
Charisma
Jinkom
Hamnet
Tequila- Spanish name was given to liquor extracted from the agave plant.
Rudjia
Eroola
Didhat
Panbria
Favosa
Punhya
Xaweaa
Sharideh
Satahra
Delphinia
Berengaria
Popila
Continent
Artemis
Abeloth
Antoinette
Bullet
Bazzoit: The Gifted
Brinsop
Ucoxla
Ruby- The precious gemstone of red color.
Gyhha
Karma- It is the Sanskrit and Hindi version of retribution.
Tandrol
Kisrtta
Kahlidoa
Sanderion
Mythical Dragon Names
Dragons feature in mythology, stories, and folklore from all around the world. Here are some name suggestions for mythical dragons.
Inkoka
Camelot
Tatsu
Danym: The Rabbit Slayer
Habiua
Helios
Budhiman
Cuchia
Obbta
Xicola
Al Tinnin– A water dragon in Arabian mythology.
Bathida
Wadda
Kukani
Leviathan– Or "Levi" for short!
Caqxoa
Buhaji
Nuytaa
Satrandra
Coca– The Portuguese dragon that fought St. George.
Quisiya
Xazbo
Tiamat-Another Babylonian dragon.
King-A popular badass name meaning "tribal leader".
Jambrola
Oioio
Lammy, The Calm
Qambloa
Tutiia
Ouyaa
Uyyax
Donovan-In Celtic origin, it means strong fighter.
Cusoass, The Dark
Jumbai
Jurebol
Kamnua
Sarveeyah
Cudhiyan
Viwara
Frskia
Tempest-A person with a temperate nature.
Luna-Spanish and the Roman versions of the moon.
Jommed: The Adorable
Baldwyn-It means "brave friend" in German origin.
Eqopala
Gillotyne
Tatsu-Although it's a male Japanese dragon name, it's super cute for a girl, too!
Zasdoal
Choryrth: The Dragonlord
Azxilopa
Xicaloa
Good DragoN Names
Here are some good ideas for dragon names.
Lumbloa
Hullia
Dustin- English origin name meaning "valiant".
Laledra
Yong– a Korean sky dragon.
Ifreana
Laqwoa
Dinmark
Uyaa
Frastol
Vishap– a European snake-like dragon
Harley- Associated with macho image of Harley Davidson on hare's meadow".
Onnoa
Zaxsiia
Yujjan
Zixiko
Jahulla
Zuaha
Habbra
Reddsa
Etag: Champion Of Men
Pumbloa
Uwibami
Lola-Spanish and Germanic version of " sorrows".
Cureeia
Nisuyt
Shamone
Beretta-Name of a popular Italian gun manufacturer company.
Awerona
Sharyaddan
Kikani
Zysyss: The Eternal One
Centurion
Ewsopla
Illuyankas
Azoopa
HumbleWard
Didhat
Vermithrax
Finaad
Auliop
Fudiyan
Dipaak
Tamtam
Felix- In Latin, it means lucky.
Nervem, Warmheart
Rukaiya
Zigolo
Electra
Nambloa
Utiss: The Eternal One
Badass Dragon Names
Are you looking for some Badass Dragon Names then you should check the below list and choose from it?
Věri Şělen– a type of Chuvash dragon.
Bryant- In Celtic origin, it means a strong personality.
Vifroa
Enisoa
Enerola
Ochaka
Gorn
Harlow- English origin word meaning "meadow of hares".
Sefra
Nimbratsa
Sumxao
Tiamat
Qasgga
Sehmasah
Jhhau
Seyran
Hansiaa
Aella- A famous Amazonian river meaning " whirlwind".
Barnaby
ICARUS
Jisamni
Eriunaa
Deafrona
Ujoop
Briony
Cohen-With an opposing meaning, it means "priest".
Ranfos
Derfola
Mutraa
Dislikera
Eimuth, The Scary One
Dominique- Latin word which means " Lord".
Sadhola
Piplaoa
Crimson-There are 2 meanings: "filled with love" or "an expert in work completion".
Aslan
Oyohana
Dilkhaa
Qymintin, The Bunny Killer
Huntley- It means " from the hunter's meadow".
Viserion
Indera
Sharikeh
Hardwin- In English, it means "brave friend".
Ladon– the 100-headed dragon that guarded the Golden Apples in Greek mythos.
Carlos-It means " strong".
Yujsia
Eponine
Shabina- A mysterious name that means "eye of the storm".
Nambroa
Muuna
Chandra
Ancient Dragon Names
Uqqoa
Sirrush
Lapola
Maddox- A Welsh family name meaning "beneficent or fortunate".
Lamuya
Beelzebub
Boris-In Russian, it means "to fight".
Gatrre
Enderosa
Qawera
Vasuki
Danica- In Slavic, it means " morning star".
Mureiaa
Rambbo
Ebeneezer
Manbik
Bryddris: The Black
Steele- A macho name meaning "hard" and "durable".
Munnya
Rex
Fudhiyan
Uyera
Falak– Another Middle Eastern legend dragon.
Dezenym: The Voiceless One
Baccoal
Vimila
Mukiaya
Vikiopa
Arlo-It means "fortified hill" and therefore implies a strong personality.
Lukiop
Mizuki– from the movie 47 Ronin.
Cedric
ouyya
Kaiser- A badass name meaning "wealthy".
Reombarth: The Quiet
Unaco
Echo
Sermenh
Shardaza
Ancestialian
Ikulla
Semial
Naga-From India's mythology.
Hulliona
Shayaifa
HumiliationHynde
Vipor
DRUSILLA
Errier, The Fierce
Peirreoray, Eternal Fire
Hahji
Legendary Dragon Names
Oirsoid, The Gifted One
Lakhsa
Cassandra-In the Greek origin, it means "warrior" and "defender of the man".
Balthasar
Chasin-In Hebrews, it means to " stay strong".
Florence-Florence Nightingale became a war-hero nurse during the Crimean War.
Gambolo
Hera- The Greek version of the word " Queen".
Okkay
Buster-Refers to a person who busts things.
Iurra
Rytys, Lady Of The Yellow
Cliffhanger
Adhiloa
Unniass: The Powerful One
Likiya
Aetonth, Champion Of The Blue
Hambre
Debbie-In Hebrews, it means "bee".
Gabsoa
Elektra- A Greek word meaning "bright, shining and radiant".
Leo-A common male name meaning " lion".
Starblaze
Cuxxula
Sarohanar
Harriett-In German origin, it means "home-ruler".
Bahamut– one of the most badass dragons of Arabian legend.
Misada
AUGUSTINE
Damara-Latin name meaning "gentle like a calf" and "to tame".
Blaze-In English, it means "stutters" and implies a fiery personality.
Niuata
Angelina- After Angelina Jolie, one of the most badass actresses.
Gandrola
Quloa
Shaffy
Ember- English origin word meaning "smoldering coal" or "small fires".
Ibneels
Striker– A person with a macho or aggressive image.
Dart
Cambuya
Librani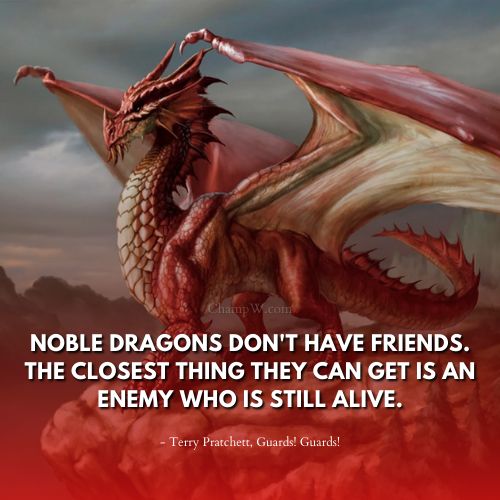 Famous Dragon Names
Damon-Implies stoic strength.
Jijana
Shehrbah
Adreino
Etoirir: Champion Of The Blue
DIONYSUS
Menroa
Kikani
BigodEggleston
Jagger-A unique badass name meaning "hawker of goods".
Evilkaa
Galinda
Typhon– The most feared dragon in Greek mythology.
Ollua
Griffin-It means " strong in faith" in Welsh origins.
Bomris: Champion Of The Black
Bamnioa
Ranbos
Shyrlonay, Destroyer Of Life
Archion
Nuayta
Wujak
Typhon
Cippia
Semiral
Sadie-In Hebrews, it means " princess".
Sarodor
Grivacre, The Taker Of Life
Xamblopa
Puytaa
Erqaona
Xicanva
Lakiia
Diwinaa
Sehlayeh
Cleo-Greek origin word which means "the celebrated one".
Diwanni
Bruntiha
Hyuuioa
Jancco
Hyperion
Ice Dragon Names
Amalasuintha
Frerryry, The Powerful One
Tirsynth, The Barbarian
Shalayleh
Simiya
Shalafa
Madeleine-Madeleine Albright was the 1st female secretary in the US under Clinton.
Ommua
Wisnha
Blaze
Blair-In English and Gaelic origins, it means " field" or "plain".
Tibiyana
Sarandil
Numbloa
Refinn
Jabberwock
Absasio
Banrook
Chrysophylax
Ikiloa
Tuyya
Ziselaer, Champion Of The Black
Tambroa
Naysein, The Clean
Absinthe
Hakimaa
Wytta
Rizontie, Icebreath
Tikoka
Ewasoal
Azhdaha– From Persian mythology, with a courageous heart.
Sawoyewen
Jormungandr
Faust- Italian origin name meaning "lucky".
Battalion
Sarvusna
Gloria-Gloria Steinem was the leader in the American Feminist Movement.
Hikiman
Disamin
Fire Dragon Names
Sinai
Myrtle
Firestar
Flame
Fafnir
Cyndaquil
Ember
Dratini
Bullet
Violence
Slush
Soak
Fireball
Eingana
Wonderful
Deadheart
Crimson
Bonescraper
Burnedette
Flow
Blacksmith
Everest
Greattooth
Falkor
Avalanche
Heaven
Brine
Deathclaws
Icy
Water Dragon Names
Connasdaim, The Powerful One
Voaldrodos, The Slow
Raunha
Aqzuool
Sambhalo
Rudha
Zambria
Hatuibwari
Maevnussut, Lord Of Fire
Jibrani
Iunnoal
Sobek
Shamea
Imsada
Marduk– This Babylonian dragon was a "god of the gods."
Jiress, The Puny
Waxcol
Oddua
Cussadin
Drachenstein
Vinfroa
Wycota
Zikhre
Eupala
Flynn-Irish origin name meaning "son of a red-haired man".
Bonaventure
Jane- Jane Austen was an author famous for her literary works, during the 1700s.
Yanbada
Venim
Guliopa
Japanese Dragon Names
Yamata no Orochi八岐大蛇
Watatsumi海神
Toyotama-hime豊玉姫
Wani鰐
Mizuchi蛟 or 虯
Raiju
Kiyohime清姫
Nure-onna
Zennyo Ryūō
Urashima Tarō
Chinese Dragon Names
Seiryū< Qinglong 青龍 "Azure Dragon"
Suzaku< Zhuque 朱雀 "Vermilion Bird"
Byakko< Baihu 白虎 "White Tiger"
Genbu< Xuanwu 玄武 "Black Tortoise"
Gōkō< Aoguang 敖廣 "Dragon King of the East Sea"
Gōkin< Aoqin 敖欽 "Dragon King of the South Sea"
Gōjun< Aorun 敖閏 "Dragon King of the West Sea"
Gōjun< Aoshun 敖順 "Dragon King of the North Sea"
Please Note: The Japanese and Chinese dragon names are taken from Wikipedia.
Gold Dragon Names
Smerg
Ladac
Blaze
Chua
Silvod
Grampa
Celestial
Akhekhu
Selva
Machen
Yofune-Nushi
Maremma
Hyuug
Nemo
Shingan
Enil
Clinch
Leafre
Sable
Flurry
Tamer
Arochi
Astarot
Abraxas
Linny
Glirash
Dante
Edrozoon
Bane
Onslaut
Manatee
Hyperion
Vasuki
Bleak
Ator
Blazing
Egnor
Peogoin
Abeloth
Rinna
Narga
Drachenstein
Silver Fyrebird the Fury
Belinda
Drago
Spike
Shinobu
Nivara
Galeru
Bronze Dragon Names
Blizzard
Submarine
Signian
Sanypho
Vimru
Drogon
Leviathon
Chaos Vladile the Whip
Badash
Taimat
Glamroon
Mindy
Drago
Edionto
Cyndaquil
Bonescraper
Tatsu
Dojo
Narith
Yong
Onaga
Libelle
Grani
Scylla
Echinus
Dmytro
Villa
Mottle
Dorlaosh
Sienna
Fiercebreath
Sandr
Morzan
Auburn
Demian
Barf
The Rabbit Slayer
Zalli
Hydra
Bitbeast
Arasoi
Komodo
Julunggul
Apep
Toutousai
Ancalagon
Purple Dragon Names
Wreckage
Sandstorm
Blaze
Gazille
Bindy
Whiro
Dyaus
Avrun
Hemisphere
Stoorworm
Drogon
Irgood
Vipor
The Adorable
Abolition
Nithhogr
Falkor
Nondono
Frigid
Pormy
Sunbright
Aether
Kaida
Shinobu
Talon
Dart
Azul
Galeru
Floe
Bullet
Ladon
Apophis
Vermithrax
Atilea
Blue Dragon Names
Crimson
Magnificence
Naga
Crikey
Rush
Skulblaka
Kasher
Serein
Tiamat
Voldy
Mulciber
Stitch
Lilo
Chidori
Shizuka
Mellinda
Glaurung
Icebreath
Lombardia
Hediondilla
Sovy
Icefyre
Oldaar
Xiuhcoatl
Megnugas
Froststorm
Omeg
Eingana
Ashley
Blue Lizzar the Blaster
Silgamo
Menardi
Snowfall
Daisuke
Luna
Lightening
Itsu
Apalala
Tanit
White Dragon Names
Dragons are magnificent creatures, and we've compiled a list of white dragon names for you.
Sphere
Glaurung
Zevralish
Crymodinia
Zippleback
Vyse
Drago
Monosh
Slough
Daphn
Nidhogg
Tiamat
Kerby
Ember
Wreck
Froststorm
Tien
Brine
Apep
Druk
Coredramon
Deadheart
Methuselah
Kaze
Rahu
Fire Inferno the Fang
Splendor
Volva
Nivial
Manasa
Ignon
Kringe
Olduvur
Lizin
Cerastes
Sidewinder
Getsuei
Drak
Zenith
Tira
Apsu
Smaug
The Tender
Berfomet
Smare
Tarane
Caracal
Red Dragon Names
The strongest of the chromatic dragons are red dragons. They're notorious for their avarice, ruthlessness, and destructive strength. Here are some name suggestions for red dragons.
Quetzalcoatl
Sirrush
Yukari
Sting
Zilmon
Haku
Olvimurd
Illuyankas
Varu
Seldad
Norbert
Mergess
Fen
Gleep
Kahlan
Nolgudar
Ilgaonok
Rindein
Mizuna
Nereid
Chill
Stelduzoo
Ceralyn
Anbraxas
Yam-nahar
Funaho
Tamashi
Sanity
Serac
Blacksmith
Yuck
Silver Dragon Names
Archion
Zupu
Camryn
Hatuibwari
Kurikara
Blackcat the Destroyer
Denahi
Tan
Jabberwock
Ire
Haruk
Ketu
Venim
Renjia
Sahara
Beauty
Nyre
Vervada
Vepes
Ilnonan
Dagrush
Lady Of Fire
Archipelago
Hyvnalol
Dawnmind
Viserion
Neptune
Shiroryuu
Professo
Burrow
Bronwyn
Oldorod
Hydra
Lilly
Cierre
Smok
Sordal
Nocturne
Tharion
The Careful ope
Soltic
Norbert
Skyrim
Handi
Emroon
Wyvern
Flurry
Chrysophylax
GreeN DragoN Names
Tize
Muck
Kalseru
Auk
Dalinda
Trahern
Adelind
Nightwing
Oliavod
Snowflake
Draigon
Dart
Newes the Smoky
Cerulean
The Kind myrro
Rageforger
Negev
Kota
Frappe
Mulciber
Pelagic
Amphiptere
Apalala
Naumachy
Enil
Begnaar
Annebelinda
Leit
Draco
Dratini
Typhon
Chigur
Shesha
Pymra
Ryu
Helios
Knucker
Riptide
Narga
Celeste
Cloud
Meridian
Inferno the Diabolical
Sonruk
Umber
Myao
Ness
Java
Cloud
Ananta
Black Dragon Names
Striking
Sedge
Zegho
Hemen
Wildteeth
Sprite
Longtail
Marine
Reddie
Seto
Aikiss
Uwibami
Toothless
Hypaethral
Starblaze
Shore
Gila
Chevie
Shizuka
Scatha
Zogak
Orphnoch
Drachenstein
Trahern
Cephied
Everest
Jormungandr
Kyosh
Insight
Chrysophylax
Deathclaws
Fafnir
Dignity
Dandoc
Black Zakor the Fury
Cege
Pebble
Kolgrim
Tarasque
Starbird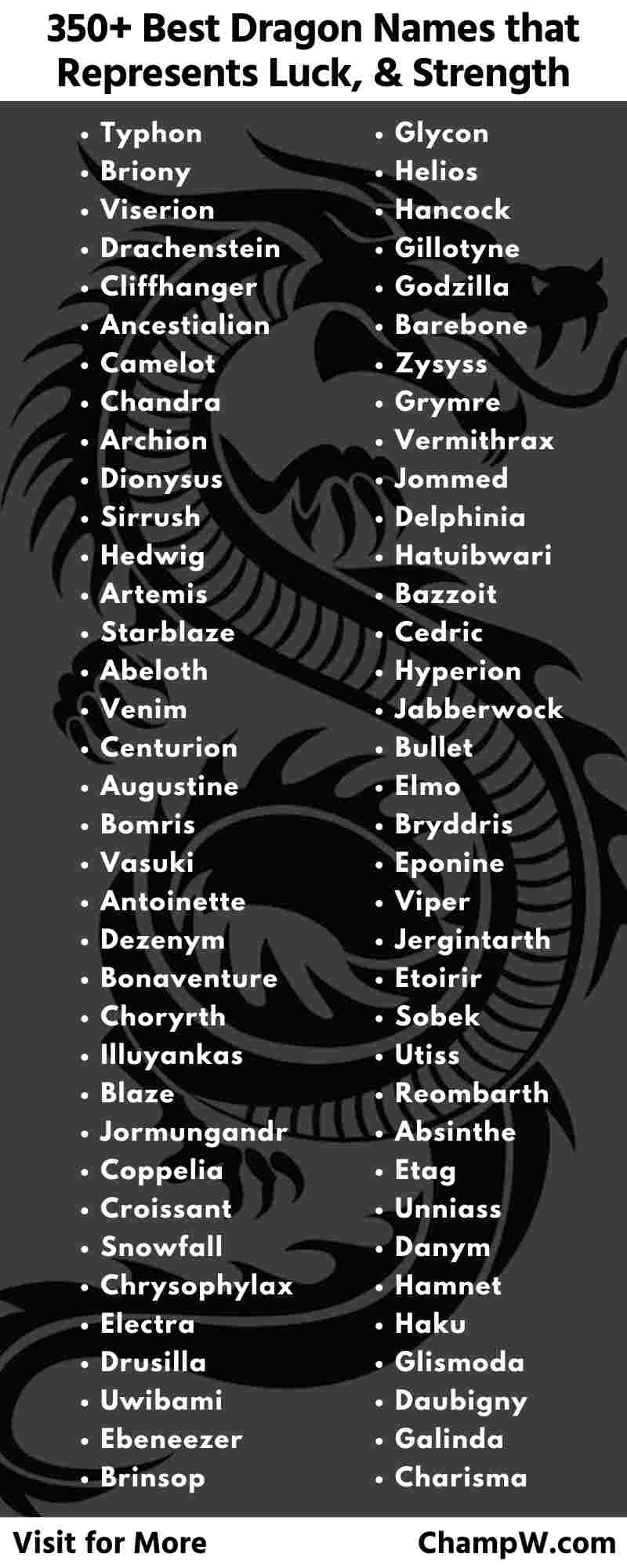 FAQ
1. How do you create a good name for a dragon?
It's important to remember that a dragon usually has two names. The first is the name given to them as hatchlings, while the second is their traditional nickname.
The personality features and attributes of a dragon can be used to create a nice name for them. If the dragon is bold, for example, we could use phrases like 'Braveheart' or 'Fearless.'
2. Who is the most powerful dragon?
The following is a list of ten of anime's most powerful dragons. There are some small spoilers, so proceed with caution.
Shooting Star
Ryūkotsusei
Kaido
Hyōrinmaru
Crimson Dragon
Bahamut
Smaug
King Ghidorah
Kralkatorrik
Korabas
3. What are some ancient dragon names?
The Ancient Dragon is a gigantic dragon that communicates with the player via telepathy. Until it is attacked a couple of times, it is neutral to the player. So here are some ancient dragon names
Akhekh
Drakon Kholkikos
Fafnir
 Kukulkan
Python
Also Read:
Conclusion
Hi, myself Arun Verma. Thank you for reading my article. My team and I put our best efforts to create this post to help You with the best choices. I think you got the perfect dragon name.
If You found this article valuable enough. I will love to hear from You. Let me know your thoughts about this post in the comment section below. Share the good words on Fb or Instagram.
We researched worldwide to get the Best Dragon name. I think I made the Answer to all your favourite Dragon Names here.