9 Most Beloved Nicknames of Everton F.C.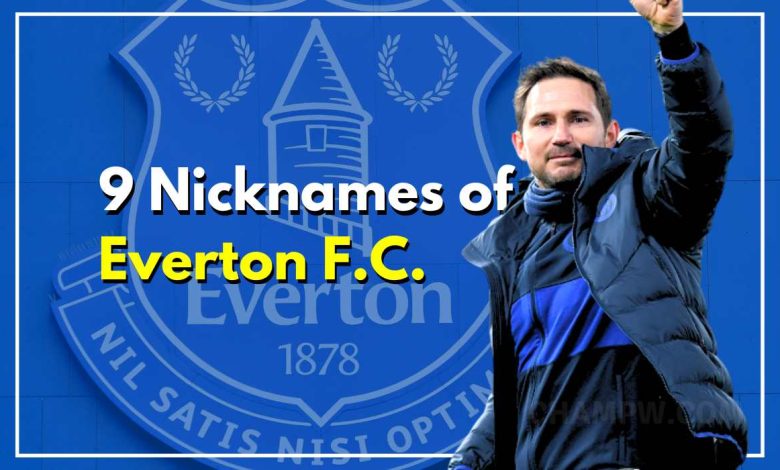 Everton Football Club has a long and rich history, which includes many different nicknames that have been associated with the club over the years. Some of these nicknames have been used more frequently than others, but they all hold special meaning for Everton fans. In this section, we will explore the most well-known and beloved nicknames of Everton Football Club.
Everton F.C. Nicknames
Everton Football Club, a professional football club based in Liverpool, England, has a few nicknames. The most common nicknames for Everton F.C. are:
1. The Toffees
Possibly the most well-known nickname associated with Everton Football Club. This nickname dates back to the 1880s when a woman named Mother Noblett served refreshments at Everton home games. Formerly, she sold toffee, which became a popular snack among supporters and athletes. Eventually, the team began donning blue-and-white striped jerseys that resembled the colors of butterscotch toffees, thereby solidifying their association with this sweet treat. Today, Everton supporters call their team the Toffees.
2. The Blues
The Blues is another prevalent nickname for Everton. This nickname is derived from the club's traditional blue home uniform and has been in use since the team's inception. It is a simple, yet potent name that not only signifies the color of Everton's jersey but also their fighting spirit on the field. The nickname has withstood the test of time and continues to be used by fans, players, and media entities.
3. School of Science
In the late 19th century, when Everton was renowned for playing a highly technical and precise brand of football, they were given this distinctive nickname. Under manager William Cuff, the team gained a reputation for their cerebral play and tactical acuity. This earned them the nickname "The School of Science," which honors both their academic origins (Everton was founded as St. Domingo's FC by Methodist church members) and their strategic approach to the game.
4. People's Club
Everton has always been a club with strong connections to the community and devoted fans. This resulted in the nickname "The People's Club," which reflects the team's close relationship with its fans. Everton is renowned for being one of the first English football clubs to welcome and revere working-class fans. This approach has garnered them widespread respect and affection from their devoted fan base.
5. The Dogs of War
During the 1970s and 1980s, when Everton was known for their aggressive and combative play, they were given this nickname. The squad, led by manager Howard Kendall, was renowned for its never-quit mentality and fierce determination on the field. They earned this nickname as a result of their tenacious approach to each match, in which they always gave their all to achieve victory.
6. Royal Blue Mersey
Royal Blue Mersey is another nickname that emphasizes Everton's strong connection to their home city. This appellation refers to the River Mersey, which flows through Liverpool and has inspired and brought pride to generations of Evertonians. The color royal blue also symbolizes the club's royal prominence in English football, making this a fitting and iconic nickname.
7. The Black Watch
This is a lesser-known but historically significant appellation for Everton. The preponderance of Everton's players enlisted in the British Army during World War I in 1914. Many joined the illustrious Scottish regiment known as the Black Watch, which became synonymous with the team over time. This nickname serves as a reminder of the sacrifices and contributions made by Everton during wartime.
8. The Mighty Everton
This nickname is indicative of the club's illustrious history of success. With nine league titles, five FA Cups, and one European Cup Winners' Cup, Everton has earned the adjective "mighty." This name signifies not only their accomplishments on the field but also their resilience and resolve as a team. It is a fitting tribute to Everton Football Club's force and prestige.
9. The Evertonians
Last but not least, we have the nickname "The Evertonians." This refers to the devoted and enthusiastic supporters who support their team regardless of the circumstances. The term derives from the club's name, as Everton was founded by a group of individuals from the Liverpool neighbourhood of Everton. Today, this nickname symbolizes the unwavering devotion and affection that fans have for their favourite team.
Also Read:
Conclusion
These are just some of the many nicknames associated with Everton Football Club. Each one holds a unique significance to the club and its fans, representing different eras and aspects of its history. Whether you refer to them as "The Toffees", "The Blues" or any other nickname, one thing is for sure – Everton Football Club will always hold a special place in the hearts of its supporters. So let's cheer on our beloved team with pride, no matter what nickname we use! COYB (Come On You Blues)!