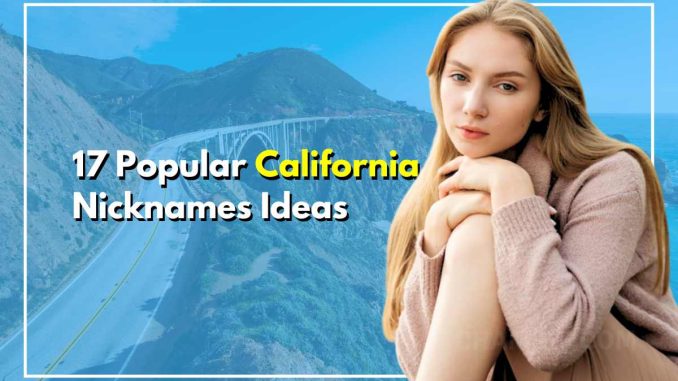 California, the golden state, is famous for its magnificent coastline, diverse landscapes, and sunny weather. However, the state has many more facets apart from its surface that embellish its character. One of these fascinating aspects is its collection of monikers that depict the essence of the state, its people, and culture. From the enchanting La La Land to the historic El Dorado, California's nicknames are a reflection of its rich history, cultural diversity, and natural beauty. In this blog, we will explore some of the most exciting and insightful California Nicknames that make California an extraordinary state.
California is a state with no shortage of accolades. From its natural beauty to its vibrant cities, this west coast wonderland has been celebrated in countless songs, movies, and stories. But alongside all of its official titles and honors, California also boasts a colorful, creative, and sometimes surprising collection of nicknames.
From the Golden State to the Land of Milk and Honey, these monikers reveal unique aspects of California's character, culture, and history. In this blog, we'll be exploring some of California's most iconic nicknames, as well as digging into the stories and meanings behind them. So sit back, relax, and let's take a tour of the many faces of California.
California Nicknames
California, with its diverse natural landscapes, cultural legacy, and bustling cities, has several nicknames. California has been called the golden state, the bear state, the land of milk and honey, and the wine state. These nicknames inspire pride, belonging, and shared identity in Californians. This blog will examine California's most popular nicknames and how they represent its unique character. Join us as we thoughtfully and curiously explore the list of  California nicknames.
1. The Golden State
"The Golden State" is California's most famous moniker. The 1849 Gold Rush brought hundreds of thousands of gold seekers to California. The term also symbolises California's other prosperity and abundance. California is rich with opportunity, natural beauty, and culture. In this land of golden chances, the term implies hope.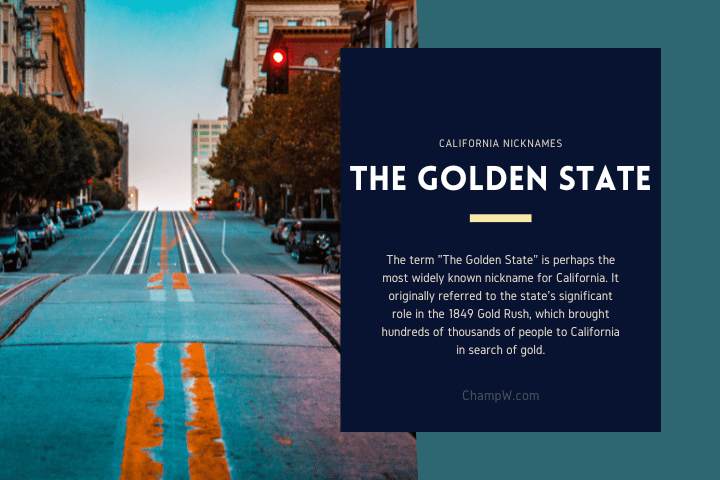 2. The Bear State
The state flag's grizzly bear inspired this name. California no longer has grizzlies. The bear still symbolises California's toughness. Californians are as hardy as the grizzly.
3. The Land of Milk and Honey
The state's strong agricultural industry produces grapes, avocados, strawberries, and almonds, hence its namesake. California has fertile soil, a good climate, and creative farming methods. The term "The Land of Milk and Honey" reflects California's appealing lifestyle, as many people relocate there to live well.
4. The Grape State
California is a wine lover's heaven with Napa Valley and Sonoma producing some of the world's best wines. This nickname conjures visions of vineyards, wine tastings, and sunny afternoons spent sipping.
5. The Sunshine State
California's year-round sunshine attracts tourists and locals. California's mild winters and hot summers allow year-round outdoor activities. California's natural beauties are best enjoyed in the warm sun, from surfing in San Diego to climbing in Yosemite. The term also represents Californians' sunny, laid-back demeanour.
6. The Tech State
California has become a global tech hub. California attracts the sharpest tech minds and creates some of the most innovative tech advances due to Silicon Valley. California's nickname "The Tech State" reflects its innovation and forward-thinking.
7. The Surf State
California's 840-mile coastline is famous for surfing and its waves. California's surf spots attract surfers worldwide. "The Surf State" honours this pastime and its laid-back lifestyle.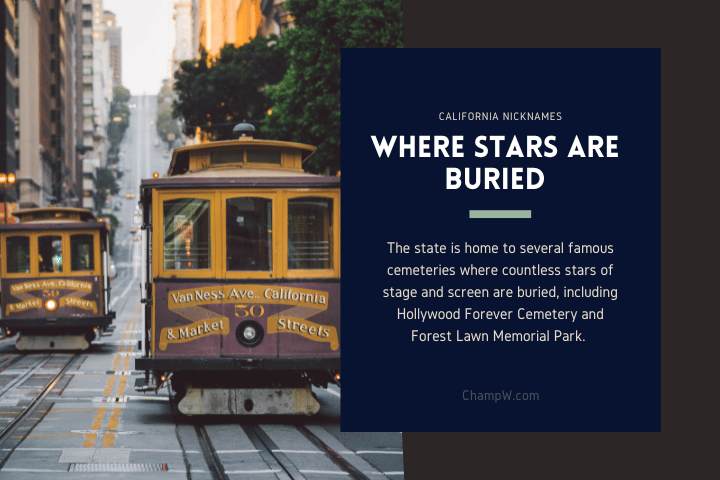 8. The Bear Republic
"The Bear Republic," another nickname from the state flag, reflects California's independence and mid-19th-century self-government. The term reflects the state's broad and eclectic populace, which values individuality and nonconformity.
9. El Dorado State
The term "El Dorado State" comes from California's rich history and the mythical city of gold's pursuit. The mid-1800s California Gold Rush attracted thousands of hopefuls. California is still a place where dreams can come true, even though the gold rush is over. The state's natural beauty and plenty of resources—gold mines, beautiful farms, and majestic mountains—are reflected in its moniker.
10. The Creative State
California has world-class museums, galleries, theatres, and music venues. California has always been a centre for creativity and innovation, from Hollywood to San Francisco and Los Angeles' music scenes. "The Creative State" symbolises this artistic attitude and the state's commitment to innovation and imagination.
11. The Land of Dreams
Hollywood and the entertainment industry make California synonymous with fame and money. People come to the state to establish a business, get an education, or discover a community. The state is known as "The Land of Dreams" since it's a location where dreams can come true.
12. Golden West
The "Golden West" moniker honours California's gorgeous sunsets, especially in the west where the sun sets into the Pacific Ocean. It symbolises the state's wealth and opportunities. California's sunny climate, magnificent scenery, and strong industry make it the "Golden West." The nickname also references California's rich history, particularly the Gold Rush, which made it a powerhouse.
13. The Land of Sunshine and Opportunity
California has endless potential and sunshine. "The Land of Sunshine and Opportunity" refers to the state's numerous resources, particularly sunshine, which supports a growing renewable energy industry. It also shows the state's openness, diversity, and social justice. California offers many opportunities for people of all backgrounds to improve their lives. California is ideal for tech, entertainment, and agricultural careers. California's moniker symbolises its sunlight and opportunity.
14. Land of Fruits and Nuts
The "Land of Fruits and Nuts" moniker honours California's vast agriculture industry. The state's avocados, almonds, and oranges are world-class. Its lush Central Valley plains and diverse microclimates make it excellent for growing a range of crops. This term reflects California's reputation for eccentric ideas and lifestyles. California has long allowed people to pursue their passions and embrace their idiosyncrasies, from tech to Hollywood. The Land of Fruits and Nuts shows the state's diversity and innovation.
15. Where Stars Are Buried
"Where Stars Are Buried" may seem depressing, but it fascinates many California tourists. Hollywood Forever Cemetery and Forest Lawn Memorial Park are notable cemeteries in the state where many actors are buried. These gravesites honour California's history and entertainment industry influence. They also show the state's big-heartedness and readiness to celebrate death. The term also reflects the state's commitment to cultural preservation. California values its heritage, from its coastal missions to its historic landmarks. The Land of Stars showcases California's history and culture.
16. The Cereal Bowl of the Nation
"The Cereal Bowl of the Nation" is another reference to California's agricultural importance. Wheat, rice, and maize are the state's main crops. These crops are vital to many of our favourite breakfast cereals, earning California this special moniker. California's agricultural industry feeds the nation and the world, making it the nation's breadbasket. This nickname represents California's commitment to sustainability and responsible farming. California is leading the nation by lowering water use, maintaining biodiversity, and boosting soil health. The Cereal Bowl of the Nation reminds us of how much effort goes into making our food.
17. The Eureka State
The term "The Eureka State" comes from California's lengthy history of discovery. The Greek word "eureka" means "I have found it," and miner James Marshall famously exclaimed it after finding gold in the American River in 1848. This event started the California Gold Rush, which attracted thousands of gold seekers. This tremendous expansion and change shaped California's identity and culture. Today, the term symbolises the state's devotion to innovation and progress. California is a hotbed of innovation, from Silicon Valley to university research. The Eureka State reminds us that if you work hard and take risks, anything is possible in California.
Also Read:
Conclusion
In conclusion, California's many nicknames represent its personality. California's natural beauty, lively culture, and bustling cities are all appealing. California nicknames evoke pride, belonging, and community. California's various nicknames will evolve and inspire.