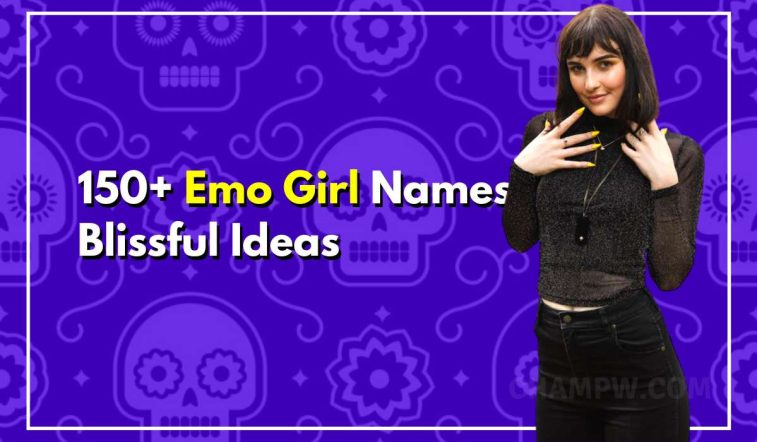 Emo girl names have been rapidly increasing in popularity over the past few years, for a variety of reasons. From the lyrical beauty of their meanings to the uniqueness of their sound, there's something captivating about these names that makes them particularly special.
One of the reasons why emo girl names are so popular is because of their lyrical quality. Many of these names have beautiful meanings that can be quite poetic when spoken aloud. For example, the name Aurora means "dawn" in Latin, while the name Ophelia means "help" in Greek. These types of names often have a calming effect on people, which is likely why they're so popular.
Another reason why emo girl names are popular is because of their unique sound. Many of these names are quite rare, which makes them stand out in a crowd. Names like Raven and Willow are two examples of this. They're not commonly heard names, which makes them all the more special.
Lastly, emo girl names are popular because they're often seen as being cool and edgy. Names like Lilith and Ember carry a certain level of mystery and intrigue. They're names that are often associated with strong, independent women. That's likely why so many parents are drawn to them.
Take a quick look at Aesthetic Girl Names.
Emo Girl Names
Emo girls are unique and have their own personalities. There are countless reasons why someone might choose to be called "emo," but for many, it simply represents a personal expression of self that's unique to them.
Raven
This gothic name is derived from the Old English word for the blackbird and carries connotations of darkness and mystery. Raven-haired girls are often seen as broodingly enchanting and alluring, and this name is perfect for anyone with a dark and dramatic personality.
Nyx
Nyx is the Greek goddess of the night and is the perfect name for a baby girl born under the cover of darkness. This name is associated with power and strength and is perfect for any little girl who is destined to be a fierce and fearless leader.
Morticia
This name has its origins in Latin, meaning "death bringer". It's perfect for any parents looking to instill a love of all things dark and spooky in their little girl. This name is often used in popular culture to describe gothic characters who are alluring and mysterious.
Willow
This name is taken from the graceful and slender tree, which is often associated with witchcraft and magic. Willow tree mothers are often depicted as wise women in folklore, and this name is perfect for any parent looking to bestow their child with strength and knowledge.
Dahlia
This romantic and dark name is of English origin and means "valley of sorrows". Dahlias are also the national flower of Mexico, and theirs is often a dark and bloody history. Nevertheless, the dahlia is a beautiful flower, and this name is perfect for any parent looking to capture both the light and dark in their child's personality.
Nocturna
This Latin name means "of the night" and refers to the time when darkness falls. It is the perfect name for a baby born in the twilight hours and is associated with mystery and allure.
Hades
This name is sure to turn heads, as it is the name of the Greek god of the underworld. Hades is often associated with death, darkness, and the afterlife, but he was also a just and fair ruler.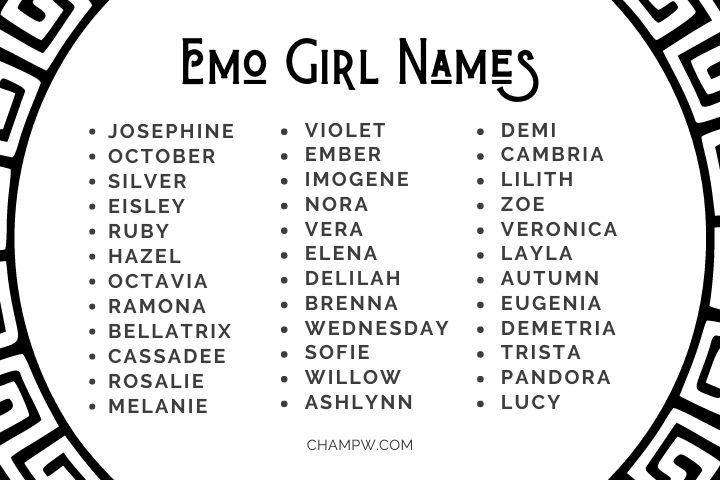 CUTE EMO GIRL NAMES
Emo girls are usually known for their tough exterior and sad songs, but there are exceptions to every rule.
Violet
Ember
Sadie
Imogene
Nora
Vera
Elena
Delilah
Brenna
Ever
Wednesday
Edith
Sofie
Evan
Sunday
Snow
Willow
Ashlynn
Demi
Cambria
Gray
Lily
Kit
Carah
Lilith
Zoe
Veronica
Sara
Layla
August
Autumn
Penelope
Eugenia
Demetria
Trista
Lee
Cora
Pandora
Lucy
Eleanor
COOL EMO GIRL NAMES
Cool girl names inspire confidence and can make you stand out from the crowd.
Winter
Ida
Selena
Paula
Sonnet
Onyx
Cordelia
Zoelle
Sabrina
Madeline
Mavis
Stella
Harlow
Xyla
Lila
Luna
Alesana
Darcy
Harper
Adelaide
Aurora
Nessa
Sydney
Aiden
Thea
Story
Hayley
Ophelia
Enid
Orchid
Rose
Wren
Billie
Bella
Tegan
Alexandria
June
Zaniya
Coraline
Nyx
UNIQUE EMO GIRL NAMES
Some of these names may be unfamiliar to you, but they're sure to appeal to the inner emo girl in all of us.
Maya
Amaya
Amethyst
Isolde
Avion
Poet
Kat
Poe
Tori
Sparrow
Yoselin
Lark
Iris
Ivy
Noel
Yasmin
Yvette
Meadow
Blake
Helena
Clio
Octavia
Ramona
Bryony
Aurelia
Devon
Scarlett
Rain
Josephine
October
Silver
Eisley
Ruby
Jade
Ebony
Bree
Bellatrix
Cassadee
Andy
Melanie
DARK EMO GIRL NAMES
Dark emo girl names are often mysterious and evoke feelings of sorrow and depression.
Maria
Evy
Tabitha
Waverly
Hazel
Elliott
Alice
Night
Rosalie
Rae
Cornelia
Emma
Zadie
Annabel
Chelsea
Zara
Lydia
Avril
Esme
Juliana
Ashlee
Alix
Phoenix
Meg
Mae
Vivian
Raven
Quinn
Audrey
Emery
December
Holly
Juliet
Winifred
Final Words
Some of the most popular emo girl names are Mandy, Chelsea, Aimee, Sophie, and Sadie. These names can be used for girls who are emo or simply like the name. If you're looking for a more unique name that's still within the realm of possibility, consider using something like Jules or India. Once you've picked out a name, make sure to choose one that reflects your personality and will fit well with your social media persona.