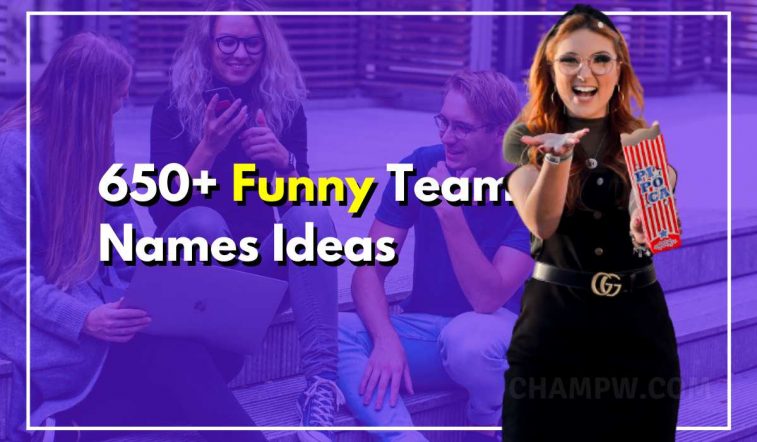 Hilarious funny team names for your trivia club or fantasy teams. Get funnier name ideas for football, volleyball, bowling, basketball, golf, or teams at work. Win or lose, picking a witty or amusing team name is a surefire way. It boosts team spirit. You can also use a little more of that! No matter if you're starting a trivia or playing in a local sports league. Coming up with a name for your organization is essential.
You may choose to outsource the funny team names. Select the greatest team names in various categories in this post. Along with a short guide to assist you in your search for the appropriate team name. Funny team names stand out more. Funny team names are more memorable than serious ones. Usually, cool team names are harder to come up with. The funny team names are guaranteed to get you noticed.
How to choose a funny team name?
Understand your team goals.
Make a list of names from the list below.
Discuss the names to discover the best.
Take a quick look at Team Names for Work to name your circle. Having a badass team name is usually beneficial, regardless of the activity. Coming up with your own team name might be exhausting. If you're feeling unsure about what to pick, take a cue from your opponent and use their name as inspiration for your team's name. The result will be a name that your fans will love!
Funny Team Names
What makes a team funny? A funny name is one way to create an entertaining atmosphere among your teammates. For example, you can name your squad "Nobodility" or "Strength" – these are great names for a team. Or, you can get creative and come up with names that are derived from other people. No matter what the theme of your squad is, you are sure to find a team name that is funny and appropriate.
Illusion of Greatness
Three Baggers
The Soul Gangsters
Tea Spillers
The Benchwarmers
The Slaying Ninjas
Bloody Marys
Power House
No Punt Intended
Sluggers
Crashing Crusaders
Slumdog Slingers
End of the Bench
Lost and Found
The Chalupas
Superheroes in Training
Cunning Stunts
Here Comes the Run
The Pistols
Smart Simpson
Basic Pitches
Injured Reserve
Ghostbusters
Tiki-takas
The Electabuzz
Goal Posters
Future Walmart Greeters
The Fellowship
O-Town Zeros
Minutemen
Cyanide
The Ponytail Express
Madam Secretaries
Furious George
Madams of Mayhem
Black Antelopes
Alley Cats
The Pokeymoms
Funny Fantasy Football Team Names
Quizzical Education
Brokebat Mountain
Juan on Juan
Single Belles
Statesmen
One Flew Over Lukaku's Nest
Game of Throw-ins
Back Alleys
Spoiler Season
Collision Course
Sons of Pitches
Hazards
Witchy Women
The Sloppy Joes
Fast but Not Furious
Go-Getters
Not Fast, Just Furious
Mountaineers
Cold Cuts and Mayo
Hey Sole Sister
Nerds of a Feather
Blood Bath and Beyond
Scrambled Legs
Sultans of Sales
The Heat Wave
All About That Ace
The Mullet Mafia
5 for Fighting
Second Place
Oceans 11
Free-Range Chickens
Woodworkers
The Talent Pool
Honey Badgers
The Her-icanes
Greek Fire
Row Z
Chips and Dip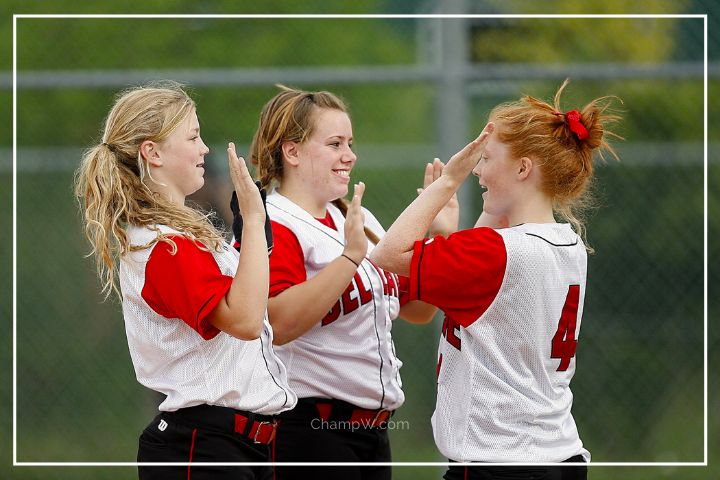 Funny Volleyball Team Names
Screamers
Bang-Bang Players
The Salty Pretzels
Team Double Dips
Untouchables
When Harry Met Alli
Nihilists
In A Pickle
Travelers
Hoops I Did It Again
Antiheroes
Finger Grips
Trappers
To Kill a Rocking Serve
Sore for Days
The Kudos Seekers
Nicki Minaj's Anacondas
The Flaming Flamingos
Lady Bugs
Ice, Ice Baby
Boilermakers
Off in Church
The Informants
My Ribs Please
1-877-LESSONS-4-KIDS
Strikers
Black Hat Hackers
The Beastie Balls
Kroos Control
Sweet Sassy Molassy
How I Met Your Melons
First and Download
Fire Extinguishers
No Boys Allowed
Howlers
Chuck Norris Offspring
Shock Cavalry
Block It Like It's Hot
Funny Bowling Team Names
Happy Feet
The Avengers
Gangnam Style
The Dino-Sores
Witches and Quizards
Pique Blinders
Hey Soul Sisters
Rebel Girls
Dream Crushers
The Dark Side
Avo-Cardio
What's in a Name?
Baby Got Track
EXCEL-erators
What's in a Name?
Bed Posts
Beauties from the Block
Taco Belles
Rattlesnakes
Hat Trick Swayze
Head Hunters
PokeyMoms
Hat Tricks
The Dementors
Rebounders
Stingrays
Hurt Lockers
Sleepers
Ballbarians
Comebackers
Trailblazers
Wizards
Pensive Gangsters
The Goon Squad
Civil Disobedience
Dyslexia Untied
Minimum Wagers
No More Debt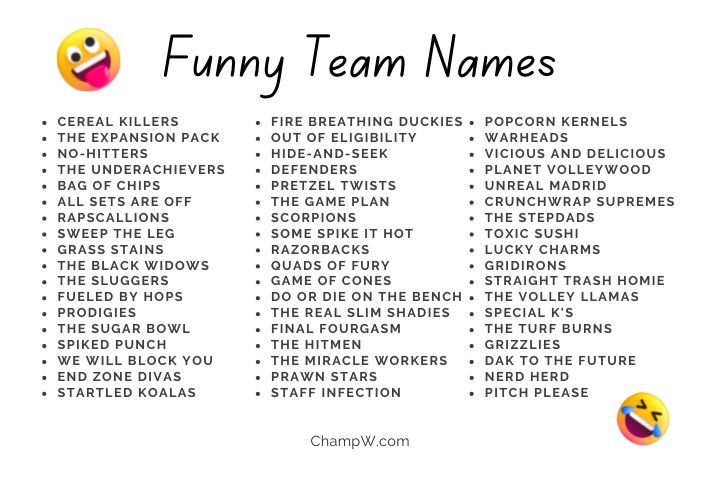 Funny Basketball Team Names
Vampire Bats
Darth Taters
Outside the Asylum
Mustangs
The Blitz
Our Nemesis
Split Enders
The Stalking Dead
The Meme Team
Hoop Dreams
Bad Intentions
Case of the Runs
Epic Failures
The Shakedown
Female Fatale
Between a Walk and Hard Place
The Weakest Links
Basketcases
Goat in a Boat
Girl Scout Dropouts
Watchmen
Iconoclasts
Redheaded Stepchildren
Bald Eagles
Contagion
Nomadic Ninjas
Fudge Buddies
We Won Ton Soup
Rush Hour
Silver Spooners
Fire Starters
Back That Pass Up
Vandelay Industries
The Quizzy Bees
Worm Burners
Phantom Strikers
Bricklayers
Team Zone
Funny Golf Team Names
The Oversleepers
Chicken Noodle Hoop
Mighty Ducks
Dukes of Hazard
Food Poisoning
Agony of De Feet
Punters
Flamin' Hot Cheetos
Net Surfers
Phoenix Sprawl
Chicks With Kicks
Freakin' Awesomes
Spuds
Super Heroes In Training
Koalified Bears
The Brady Bunch
No Spares
Bottom of the Barrel
Oedipus and the Motherlovers
Cupcakes
Something Inoffensive
Nacho Average Squad
Vipers
A Team Has No Name
Baggers
How I Set Your Mother
Hot Shots
Get 'er Run
Whiz Kids
Dangerous Dynamos
The Rural Jurors
Net Results
Hungry Hippos
Triple By Pass
Scared Kickless
Resting Bitch Faces
College Dropouts
Barely Managing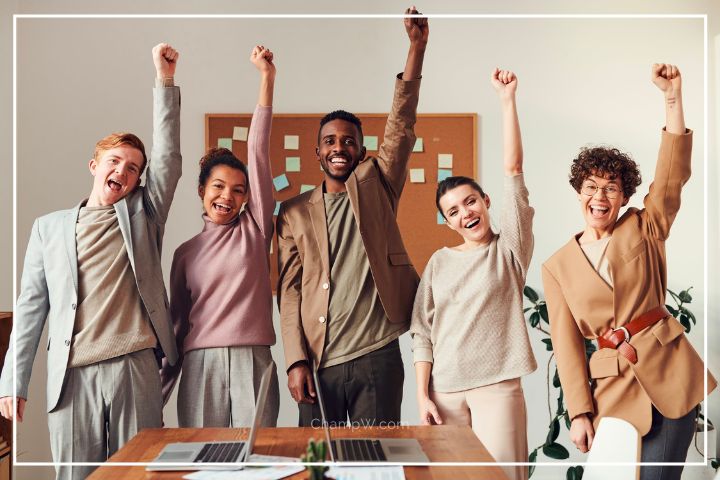 Funny Names For Teams At Work
Soy Milk
Your Pace or Mine?
Victorious Secret
Black Buffalos
Dumbledore's Army
Proletariats and Bourgeoisie
Game of Drones
The Amazonians
Heart and Sole
Boom Shaka Laka
Game of Throws
Big Dills
X-Men
Hurricane Hazard
Butter Back Off
Dynamos
Girls to the Front
The Win Sprints
Patriots
Clockwork Orange
No Hit Sherlock
Team Redundant Team
Crass Interference
Master Batters
Poison Ivy
The B-Team
Bennie and the Nets
This Space Left Intentionally Blank
Sales Team Six
Not Last Place
Loose Ends
The Geek Squad
StompingOnYourDreams
Gutter Girls
Alcoholics Unanimous
Exterminators
She-Unit
Twisted Blisters
Qualities For Funny Team Names
Traditional cultures of "fitting in" spell disaster in the knowledge economy. To thrive in this new environment, there must be an ongoing influx of new ideas, challenges, and critical thinking.
They don't back down from taking risks, and instead, view failure as a learning experience for future success. They are also very self-aware and are highly introspective. As a result, fearlessness is a vital skill in a funny team. In order to become more innovative and successful, your team should strive to have a fearless mindset.
Yellow Cards
Drop the Beet
Guns N' Poses
The Queen Bees
Heads in the Gutter
Renegades
Great Name Pending
Cheat Sheet
Win Diesel
Galentines
Shawty, It's Sherbert Day
Mudder Runners
Three-Pointers
Mercury
Bandits
The Stoney Gang
No Game Scheduled
The Silly Sea Monkeys
Hammerheads
Here for the Exercise
Podunk Hopscotch Mafia
And in First Place
The Chosen Ones
Won Direction
Every Day We're Brusselin'
Gangs of New Pork
Skillz That Kill
After Shockers
Homerun Hitters
Pavement Princesses
One-Hit Wonders
Oreoles
Worker Bees
Antagonists
Fiery Dragons
Hops Scotch
Chicks with Sticks
Brute Force
Creating this environment encourages people to speak their minds. This is essential for boosting innovation and creativity, which are essential to the modern economy. Without these traits, quality talent is worthless.
Forgot to Warm Up
Richard Parker Swims Again
Virtuosos
Inferiority Complex
Warfare
Alley Oops
Nothing But Net
Gone Girls
Couch Sweet Potatoes
Globetrotters
Basket Hounds
The Interference
Frozen Rope Climbers
New Kids on the Block
Black Mambas
Carbon Monoxide
Horsemen of the Apocalypse
Turkeys
Men of Steel
Amigos
Bros on their Toes
The Walkie Talkies
Murder of Crows
I Love Bad Pitches
Dill With It
Class on Grass
Pop-Up Blockers
Deadly Exclusives
Free Foulin'
Troublemakers
Back Street Girls
Baby Boomers
Keys to Ignition
Grub Club
The Mighty Ducks
Yager Masters
Leatherheads
Purple Cobras
Names that show dominance
The names of funny teams must portray strength, nobility, and traits that the organization aspires to represent. In addition, the names should be catchy enough to attract a diverse range of fans and viewers. The following list will provide some ideas for team names. These include Badass, Cool, and Funny. Let's take a closer look at each of these traits and how they can be incorporated into a team name.
Heart Throbs: This team is always looking for the latest love stories.
Her-ricanes: They know how to rock.
Hippie Chicks: These ladies know how to rock.
And don't forget the 404! They're adorable but want to take authority. So, how do you pick a funny team name? Try one of these. You'll be impressed!
Wanna Pizza Us?
Duchesses
2Good4U
I'll Take That Quarterback
Queen Bees
No Mercy
Cowboys
You Petr Cech Yourself
Egg-cellent Team
Eye of the Storm
Slam Dunkers
Elite Mankillers
Wolf Pack
Speed Banks
e-LEMON-ators
Can't Cutch This
The Bleacher Boys
Lebowski's 'Lil Urban Achievers
Geeks in Sneaks
Forgot to Warm-up
Your Worst Nightmare
Ninja Nomads
Baby Got Dak
Wonderdogs
Team No Spoilers
Pride of Lions
Ichabods
Drifters
The Jogfathers
RazzMaTazz
The Relaxin' Rhinos
Couch Potatoes
Flyers
Sweet Sassy Molasses
Pretty in Pink
Lord of the Rims
Nuer Gonna Give You Up
Run Like the Winded
Nobility
Noble of a funny team is a comedy duo from Australia that makes its mark on the world of stand-up. Their comedy routines are often reminiscent of old-fashioned radio shows and the resulting cynicism has earned them a loyal fan base.
I'd Hit That
Phone a Friend
Black Anacondas
Keep Calm and Curry On
Abusement Park
The Expendables
The Blair Hits Project
Clean Sheets
Lush Puppies
Boozy Brunch
The Caboose
Great Whites
We Got the Runs
Running on Empty
Fire-Breathing Hamsters
The Quota Crushers
Incognito Mode
The Gator Boyz
Smarty Pints
Are We There Yet?
Chips and Guac
Chafing the Dream
Too Much Mustard
Team Dis
Thunder Gods
Fielder of Dreams
Ketchup If You Can
Let Freedom Ring
East of the Equator
Dashing Divas
Dirt Devils
Channel 4 News Team
Village Idiots
The Silly Squids
Also-Rans
Atomic Bombs
Granny Smith Apple Got Ran Over by a Reindeer
Capital Gains
Their latest release, Nonsensory Overload, is their eighth DVD release. It features two hours of live content, a two-and-a-half-hour live show recorded in Canberra, and a 50-minute show recorded live at the Hay festival.
Cereal With Milk
Team Zissou
Cereal Killers
Don't Stop Ballieving
Green Eggs and Ham
Agitators
Queen of Goals
Kings
Ump Yours
Deuces
Fire Breathing Rubber Duckies
Meteors
The Tune Squad
11 Angry Men
High Fliers
Snap, Crackle, Pop
Pigs Fly
Bat Attitudes
The Fortress
The Pig Skin
Crossovers
Lucky Strike
Ball of Duty
Everybody Loves Raisins
Goal Diggers
Aces
Win or Booze
Football Heads
Alive and Kicking
The Screamin' Nachos
Hail Marys
Menaces
Hot Flashes
Ball Hogs
One Hit Wonders
Red Demons
Cosmopolitans
Pollution Pirates
Fearlessness
If your company's culture isn't fearless, you might consider adding some levity to your team. This dynamic collaboration method helps you work across boundaries to maximize organizational performance. While some companies are devoted to this goal, others are not so zealous.
Charlie's Angels
Crocodiles
The Expansion Pack
No-Hitters
The Underachievers
Bag of Chips
Blondes Have More Run
All Sets Are Off
Rapscallions
Sweep the Leg
Grass Stains
The Black Widows
The Sluggers
Fueled by Hops
Prodigies
The Sugar Bowl
Spiked Punch
We Will Block You
End Zone Divas
The Startled Koalas
Minnows
Block Busters
Jay Hawks
Gold Diggers
Smells Like Team Spirit
Wallflowers
Jumping Jacks
Straight off the Couch
Net-Results
Rockstars United
Jesus Lizard
Anne Ballin'
Jalapeno Hotties
Hot Pockets
Multiple Scoregasms
Trouble
Brainstormers
Vikings
It would be best if you never assumed that your company's culture is perfect. Regardless of how virtuous it may seem on the outside, it's important to recognize that workplace cultures change, and that's normal.
Ump Yours!
Bye Week
Down for the Account
A Team with No Name
Brainiacs
Beaneaters
The Shackled Sharks
Spicy Wings
Waist Management
The Heebee Jeebees
King Pins
Heart Warmers
Tenacious Turtles
Hops and Pops
Live Wire
Legs Miserable
The Hunters and Gatherers
Boys That Cried Wolf
Little Women
Easier Said Than Run
Poison
Lemon Drops
Low Expectations
Our Uniforms Match
Recess Hall-of-Famers
Straight Cash Homie
Bengay for Years
99 Problems But a Pitch Ain't One
Bowler Coaster
In it for the Swag
The Rush
Gone With the Win
Out of Eligibility
Hide-and-Seek
Defenders
Pretzel Twists
The Game Plan
Becoming fearless also means recognising your own fear and overcoming it. The fearless person is comfortable in their own skin and doesn't let rejection prevent them from achieving their goals.
Scorpions
Some Spike it Hot
Razorbacks
The Flaming Marshmallows
Quads of Fury
Game of Cones
Do or Die on the Bench
The Real Slim Shadies
Final Fourgasm
The Hitmen
The Miracle Workers
Prawn Stars
Staff Infection
Buffalo Wings
The Inter-Nets
The Miracle Whips
Skilli Vanilli
Hell on Heels
No Love-Love
Daredevils
Sink or Swim
Dynamite
Tequila Mockingbird
Notorious BIG
Booters
Mission Unblockable
Popcorn Kernels
Big Bros
Lethal Weapons
Superlatives
WarHeads
Vicious and Delicious
Planet Volleywood
Unreal Madrid
Crunchwrap Supremes
The Stepdads
Toxic Sushi
Lucky Charms
Becoming a fearless company isn't easy, but the benefits will outweigh any potential setbacks. In addition to having a culture of fearlessness, employees will be more committed to achieving their goals.
Gridirons
Straight Trash Homie
The Volley Llamas
Special K's
The Turf Burns
Grizzlies
Dak to the Future
Nerd Herd
Pitch Please
The Warriors
Outlaws
Life's A Pitch
Axis of No Talent
Bed Bath and Beyoncé
The Untouchables
The Cow Tippers
The Greasy Mullets
Boomers
Killer Cats
Slam Dunks
Worldies
Sultans
Moon Shooters
No Child Left Behind
Class Acts
Identity Theft Is Not a Joke
The Grand Slams
The Plastics
Revolters
South Korea gots Seoul
Hot Corners
Devils
Spark Plugs
Smooth Operators
Miracle Mile
Boss Babes
A fearless company will strive to be as human, agile, and experimental as possible, so they can grow as individuals and the team as a whole. The fearless culture of Slack is one of those that embody this characteristic. This culture encourages open communication.
Read Also:
Final Words
Hi, myself Arun Verma. Thank you for reading my article Funny Team Names. I and my team put my best effort to create this post to help You with the best choices. I think you got the perfect Funny Team Names ideas.