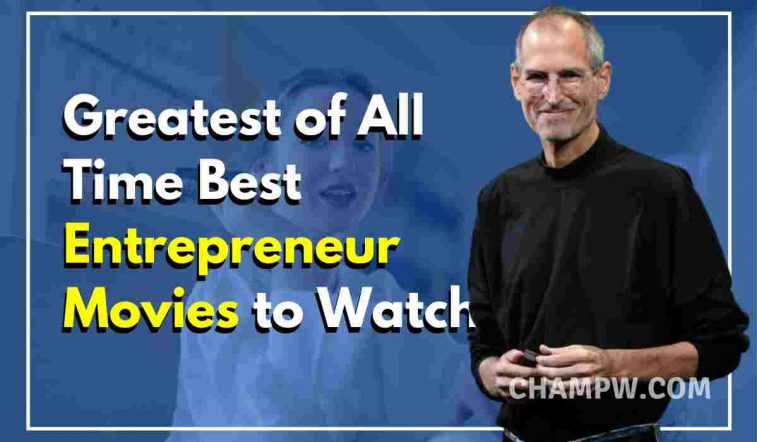 One of the best ways to find inspiration is to take a break, grab some popcorn and coke, watch some thought-provoking best Entrepreneur Movies.
Each and every day millions of obstacles stand in your way. Naysayers and wounds are enough to turn down an average person for waving the white flag.
Great films can stimulate your mind, enhance your imagination, sharpens your vision, and helps you to search for solutions from a different perspective. To have some entertainment as refreshments check the best movies on Netflix to watch today.
Top 10 Best Entrepreneur Movies List 2021
Best Entrepreneur Movies like Joy, Moneyball, The Devil Wears Prada can relax you during an entrepreneurial journey to ignite the spark within you.
The top ten entrepreneur movies are made from the best entrepreneur movies IMDb considering the viewers' feedbacks. Let's have a quick look at movies for aspiring entrepreneurs list then we will discuss each movie with their official trailers.
Top Ten Entrepreneur Movies
Movies
IMDb Ratings
The Aviator
7.5
Moneyball
7.6
Wolf of Wall Street
8.2
The Social Network
7.7
Pirates of Silicon Valley
7.3
Glengarry Glen Ross
7.7
The Pursuit of Happyness
8
Startup.com
7
The Big Short
7.8
The Founder
7.2
The Aviator is a Scorsese-DiCaprio collaboration biopic on Howard Hughes. A famous businessman turned into a successful film director Howard Hughes was the eccentric billionaire in spite of struggling with gradually worsening OCD.
Why you should watch "The Aviator"?
The best biography movies of all time – The Aviator is one of the movies about successful entrepreneurs where Howard Hughes not only competed with rival companies, movie moguls also fought his own internal battle like a gradually degrading mental illness like OCD.
Don't tell me I can't do it; don't tell me it can't be done!

– Howard Hughes
A perfect role model for aspiring entrepreneurs Howard Hughes' biopic "The Aviator" falls under the inspirational Hollywood movies for entrepreneurs.
Billy Bean played by Brad Pitt tries to overcome a limited budget challenge with an untested sabermetric approach. Witness how he gets incredible results in the Major Baseball League (MLB) using unique tactics to overcome the odds.
Why you should watch "Moneyball"?
Every startup almost faces a lack of funding during its initial phase or in-between journey. The Brad Pitt entrepreneur movie is one of the good entrepreneur movies where we learn to not give up, rather fight back even during the toughest moments.
When your enemy's making mistakes, don't interrupt him.

– Billy Beane
Billy Bean adapts to survive against the big guns without deep pockets makes it the best Hollywood movies for entrepreneurs.
A true story of Stratton Oakmont complete penny stock trading securities scam lead by Jordan Belfort, how he attracts the FBI, and where he ends up in life shifts in terms of career to relationships are depicted wonderfully in the Wolf of Wall Street viz. brilliantly directed by Martin Scorsese.
Why you should watch "Wolf of Wall Street"?
Jordan Belfort's rise and fall as an entrepreneur give you a lesson on why one should control his/her greed. We always admire a stock broker's lifestyle, wealth but the character played by Matthew McConaughey will show you the harsh reality of what it takes to be a stockbroker.
Let me tell you something. There's no nobility in poverty. I've been a rich man and I've been a poor man. And I choose rich every f**king time.

– Jordan Belfort
Wolf of Wall Street is highly appreciated by the audience, got massive success at the box office, is the best Leonardo DiCaprio entrepreneur movie of all time.
Directed by David Fincher "The Social Network" is a story of Mark Zuckerberg, how he created Facebook while studying at Harvard and later sued by two brothers who claimed he stole their idea.
Why you should watch "The Social Network"?
David Fincher's perfect direction, Aaron Sorkin's brilliant script, and a glimpse into how Facebook began making it the best entrepreneur movies of all time.
People want to go online and check out their friends, so why not build a website that offers that? Eduardo, I'm not talking about a dating site, I'm talking about taking the entire social experience of college and putting it online.

– Mark Zuckerberg
All big companies had small beginnings, see how you can grind more and overcome very common obstacles of your entrepreneurial journey.
Experience the epic rivalry between Steve Jobs and Apple during 1971 – 1997, how Bill Gates turns the game one-sided as the movie came out in 1999 – before Steve Jobs began flourishing with Apple's second phase. The story is based on the book: Fire in the Valley: The Making of the Personal Computer by Paul Freiberger.
Why you should watch "Pirates of Silicon Valley"?
The rise of two men Steve Jobs and Bill Gates who totally transformed the world of technology is one of the best humble rivalry Hollywood movies for entrepreneurs.
Good artists copy, great artists steal.

– Steve Jobs
Take a look at the beginnings of two of the most iconic technology companies Apple and Microsoft.
Jampacked Hollywood's first-row acting cast in Glengarry Glen Ross starring Al Pacino, Kevin Spacey, Jack Lemmon, and Alec Baldwin is an award-winning play that shows the difficulty of real estate salespeople during an ear-shattering sales season.
Why you should watch "Glengarry Glen Ross"?
Basics of selling where you will learn to use your wits in order to survive and thrive even while operating in a high-pressure sales environment. Glengarry Glen Ross is one of the 18 movies every entrepreneur should watch.
As you all know first prize is a Cadillac El Dorado. Anyone wanna see second prize? Second prize is a set of steak knives. Third prize is you're fired.

– David Mamet
The business world can be brutal and as a salesperson, you will fight to outwork your opponents to stay on demand.
A brilliant movie based on the true story of Chris Gardner's one-year struggle of being homeless with his son an exhausting 6-month unpaid internship as a stockbroker is a black entrepreneur movie that will inspire you to stay strong even in the white-dominated countries.
Why you should watch "The Pursuit of Happyness"?
Chris never gave up on his dream even during the toughest time, when his life partner left him, had no money to pay for his child's education, pay for foods – a struggle almost every entrepreneur faced in their lives. People also search for Will Smith entrepreneur movie just to find the name of the movie The Pursuit of Happyness.
Hey. Don't ever let somebody tell you… You can't do something. Not even me. All right?

– Christopher Gardner
The Pursuit of Happyness is one of the best motivational movies for entrepreneurs of all time, watch it if had not yet.
A promising startup GovWorks falls on the face because of mismanagement and internal power struggles. The movie is considered as the top 5 movies for entrepreneurs to learn more about the rise and fall of internet companies during the dotcom bubble.
Why you should watch "Startup.com"?
One of the most underrated good movies for entrepreneurs will teach you a cautionary tale of how friendships can turn into bitter rivalries because of internal politics.
Learn to manage the rise and fall of internet companies while tackling both external and internal corporate wars.
Boring financial concepts like subprime mortgages and collateralized debt obligations (CDOs) under the direction of Adam McKay and acted by Christian Bale and Steve Carell is also noted for employing unconventional techniques to explain complex.
The Big Shot movie is based on the book: The Big Short: Inside the Doomsday Machine in which the center of the story was able to predict and profit from the American financial crisis of 2007-08.
Why you should watch "The Big Short"?
Understand the reason behind the financial crisis without being bored in "The Big Short" movie. The Oscar-worthy performances from the actors make it the best movie entrepreneurs should watch to understand money management.
We're going to make the big banks hurt.

– Mark Baum
The movie will show you the importance of risk-taking and conviction leaving behind the mockery and ridicule from the entire financial community.
Ray Kroc's ( American fast-food tycoon ) biopic "The Founder" shows you the biggest restaurant business in the world McDonald's fast-food restaurant chain story. The surprising factor about this movie is Nick Offerman and John Carroll Lynch played the McDonald brothers on screen, the founders of McDonald's.
Why you should watch "The Founder"?
You can learn the harsh reality to be outnumbered if not step out of your own comfort zone by the competitors. In spite of being a controversial figure, Ray Kroc was an inspiring entrepreneur.
You know what – contracts are like hearts, they are made to be broken.

– Ray Kroc
Rated as the top entrepreneur movies IMDb movies like The Founder one of the Michael Keaton movies entrepreneurs must watch.
Classic Business Movies for Entrepreneurs
A breed of success hungry minds looking for refreshments that will ultimately inspire them to leave their 9-5 only to build a legendary business, unlike useless entertainment.
The Entrepreneurial mindset is very delicate to handle. According to me, there is no better way to bounceback or redesign someone's business desire than to watch business entrepreneur movies or motivational movies for entrepreneurs with an underlying message. The Classic Business Movies for Entrepreneurs to see right now are:
Classic Business Movies for Entrepreneurs
Movies
Years
IMDb Ratings
The Century of the Self
2002
8.9
The Joneses
2009
6.5
The Newsroom
2012
8.6
Mad Men
2007
8.6
The Corporation
2003
8
Jerry Maguire
1996
7.3
Click
2006
6.4
Wall Street
1987
7.4
Inspiring Entrepreneur Biography Movies
The Inspiring Entrepreneur Biography Movies are filled with knowledge and the complete story behind their success in becoming truly great entrepreneurs. Successful entrepreneur biographies are most appreciated as the top inspirational movies for entrepreneurs of all time.
Now, these inspiring movies for entrepreneurs will also guide the want to be or struggling or successful leaders of our society like you to think beyond your time and bring a change through your out of the box thinking mindest, innovating something that is a blessing to mankind.
Inspiring Entrepreneur Biography Movies
Movies
Years
IMDb Ratings
Steve Jobs
2015
7.2
Becoming Warren Buffett
2017
7.6
Indian Entrepreneur Movies In Hindi
Bollywood films are a reflection of Indian society. Good Bollywood movies for entrepreneurs show the tragedy and triumph of the human life, thereby influencing all of us. The best Bollywood movies for entrepreneurs can relate to the determination, passion and undying spirit of these movie characters.
Bollywood Business movies can teach us about the basics like how to start and run a business. Now the entrepreneur Hindi movies can come from entrepreneur movies in Hindi dubbed and entrepreneur Hollywood movies in Hindi also. Swades, Band Baaja Baaraat and Bollywood films like Guru are changing the Indian population's use to think about the business world.
Indian Entrepreneur Movies In Hindi
Movies
Years
IMDb Ratings
Swades
2004
8.2
Rocket Singh: Salesman Of The Year
2009
7.5
Band Baaja Baaraat
2010
7.2
Badmaash Company
2010
6
Guru
2007
7.7
Corporate
2006
6.5
Lakshya
2004
7.9
Bhaag Milkha Bhaag
2013
8.2
Once Upon A Time In Mumbaai
2010
7.4
Special 26
2013
8
Raajneeti
2010
7.1
Zindagi Na Milegi Dobara
2011
8.1
Wake Up Sid
2009
7.6
3 Idiots
2009
8.4
Baazaar
2018
6.6
Jaane Bhi Do Yaaro
1983
8.4
Manzil
1979
7
Lagaan
2001
8.1
Manthan
1976
7.7
Chak De India
2007
8.2
Satyakam
1969
8.2
Harishchandrachi Factory
2009
8.4
The Dirty Picture
2011
6.6
Ek Ruka Hua Faisla
1986
8.3
Best Entrepreneur Movies On Netflix
Entrepreneurs are humans too where like anyone else, they also need a night off now. Instead, a night of binge-watching drama on Netflix spend some time enjoying 7 movies every entrepreneur should watch that may lead to a lightning bolt of inspiration.
Best Entrepreneur Movies On Netflix
Movies
Years
IMDb Ratings
The Intern
2015
7.1
Wall Street: Money Never Sleeps
2010
6.2
Art & Copy
2009
6.8
Up in the Air
2009
7.4
The Boss of It All
2006
6.7
Suits
2011
8.5
Thank You for Smoking
2005
7.6
Lord of War
2005
7.6
Joy
2015
6.6
Netflix entrepreneur movies are mostly underrated as most of the viewers like to consume high dopamine draining movies. There are must watch movies for entrepreneurs which not even reflects on your feed page, people end up consuming more mentally draining movies losing more energies, and end up being tired.
I decided to put this to an end and make a list of entrepreneur movies on Netflix like the joy entrepreneur movie that is one of the best movies about female entrepreneurs to ignite the spark within you, even when you are chilling and get reinvigorated with these seven insightful movies on Netflix.
Best Entrepreneur Movies On Amazon Prime
A complete best entrepreneur movies on Amazon Prime listed below offer important lessons on a variety of topics relevant to entrepreneurs. The entrepreneur movies in Amazon Prime set high standards and showcase the skills and drive you'll need to be a success like the rise of an entrepreneur or as well as warn against greed and corruption.
Best Entrepreneur Movies On Amazon Prime
Movies
Years
IMDb Ratings
The Pitch
2012
7
House of Lies
2012
7.4
Margin Call
2011
7.1
The Company Men
2010
6.7
Wag the Dog
1997
7.2
Spotlight
2015
8.1
Network
1976
8.1
House of Cards
2013
8.7
Climax
Hi, my name is Mr. Arun Verma. Thank you for reading my article. If You found this article valuable enough, I will love to hear from You. Let me know your thoughts about this post in the comment section below. I and my team put the best efforts to create this post to help You with the best choices of the combination of the latest entrepreneur movies and great entrepreneur movies.
I think you got the Greatest of All Times Best Entrepreneur Movies to Watch after reading this article. The Entrepreneur Movies are collected by us with our ChampW team's extreme efforts, so kindly help us by sharing.